Dog friendly holiday in the Forest of Dean
Guest blog post from Gill Travers, who explored the Forest of Dean with husband Pete and their lovely labrador Winnie, staying in a pet friendly wood cabin from Forest Holidays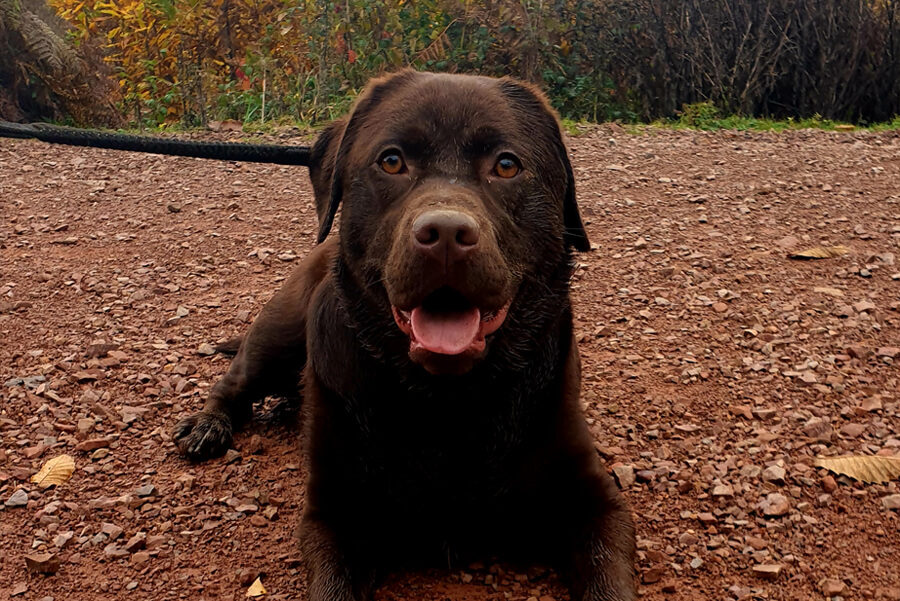 Sections
Sculpture Trail  |  Mallards Pike Lake  |  Cannops Pond  |  Symonds Yat  |  Cotswold Wildife Park
Winnie's autumn holiday
In November 2019 we took Winnie, our 2 year old chocolate labrador away for her first proper holiday. We chose Forest Holidays, as we had previously stayed in their Sherwood Pines location so we knew they were dog friendly – but as this was going to be Winnie's first time away in an unfamiliar environment, we chose somewhere a little closer to home: the Forest of Dean.
A little light research and we found a multitude of walks to try within the forest that were all within approximately 15 minutes drive of the site (although you can walk out of the cabins and are immediately in the forest so you could follow any of the trails here too!)
Our previous Forest Holidays had been for our honeymoon so we had gone for a top of the range Golden Oak cabin, but this time we wanted somewhere cosy, but didn't necessarily need the premium cabin, so we opted for a Silver Birch. This cabin still has a hot tub, but no log burner and no additional towels for hot tub use – but the cabin was set for 4 people so we used the spare bedroom towels.
We were able to book the holiday whilst there was a discount code in the January sales, so Winnie didn't cost anything extra (dogs are usually £15 per dog per night). Make sure when searching cabins on the website they state 'pet-friendly' as the results will show you cabins that are not pet friendly. We chose a weekday break (Mon-Fri).
At the end of the holiday, we decided to take Winnie for a wildlife experience at Cotswold Wildlife Park – as we were closer than we would have been, had we driven from home.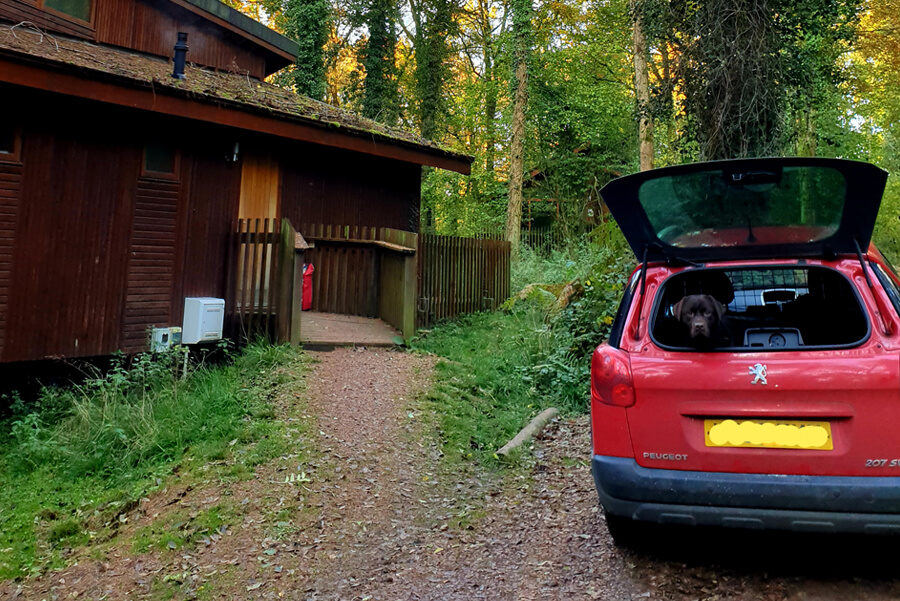 Day 1
We arrived at our warm and cosy wood cabin for check-in at 4pm (they offer an early check-in for an additional cost, but we decided against it as it only meant an additional 2 hours in the cabin).
On arrival we took Winnie into the cabin before unloading the car – she was so excited due to the new surroundings and smells that she led the way on our exploration!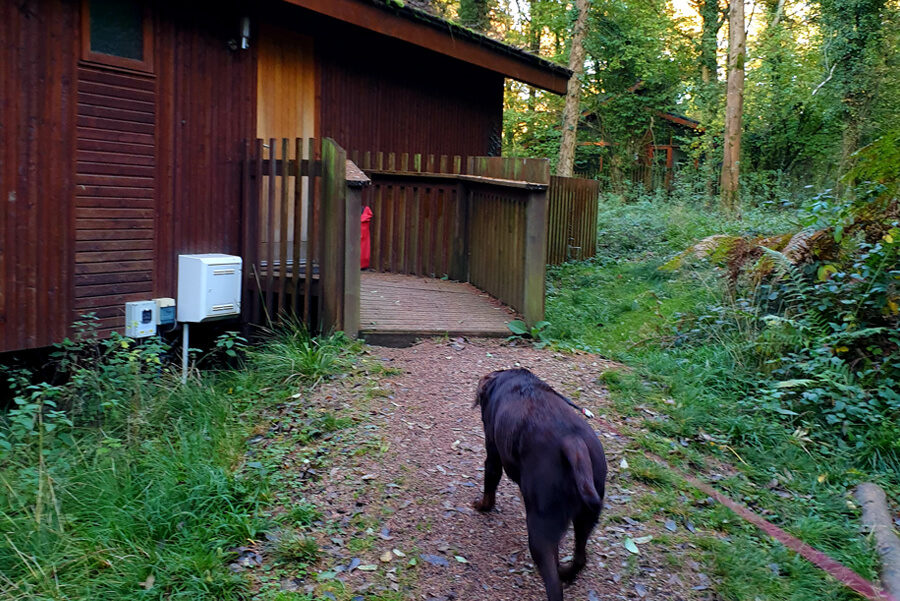 Our cosy wood cabin
The deck area is enclosed and separated into 2 areas – the top deck had an outside table and chairs set, and a surround for disposable barbeques, the lower deck is gated off as this is where the hot tub is. There is a second access gate on the hot tub section for staff to access the hot tub for daily checks, but check that this is properly bolted before allowing dogs to explore, as ours wasn't fully latched until I checked it (paranoid dog mum in action!)
Very kindly, the Forest Holidays team had left Winnie a large Bonio and a couple of biodegradable poop bags! (She was more excited by the biscuit than the bags, but we appreciated them!) We took Winnie's bed, a couple of toys and some treats to help her settle.
Tip: you can put in poo bags in the brown bin outside of the cabin, or you can take them to one of the many dog waste bins around the site to be properly disposed of – we collected our for a day or two and then took them to a waste bin as we were off on our adventures.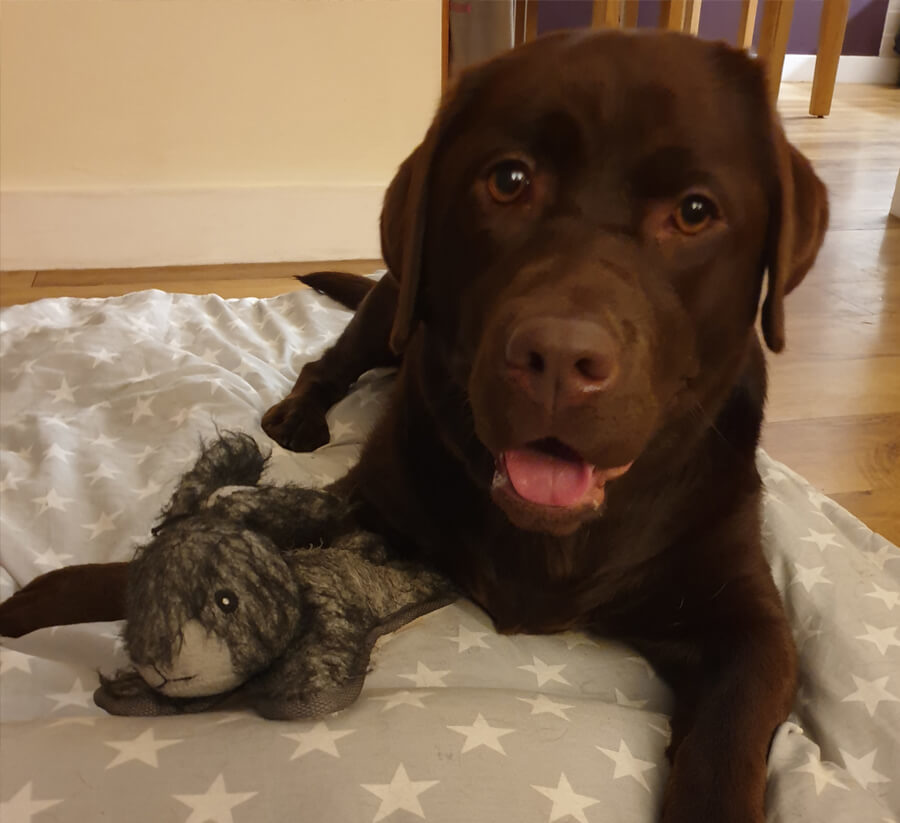 Winnie wasn't keen on us being in the hot tub away from her in the first evening but some yoghurt and tinned sardines, mixed and frozen into her toy snake soon settled her the next evening.
We made sure we requested a bath mat on arrival for bathing Winnie as the bath and shower both have very slippery surfaces, and when bathing her at home we always stand her on a bathmat to help keep her comfortable.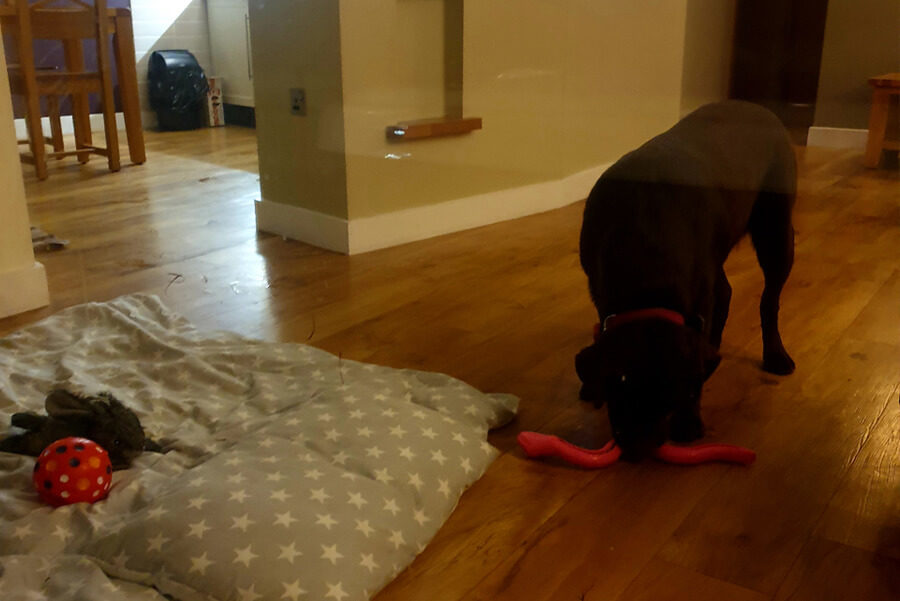 Day 2
Lots of new noises in the night (primarily tawny owls and roe deer) meant Winnie did not sleep well and I woke up very tired. The bed was a double instead of our usual super king which meant that Winnie was quite restless as she usually stretches out on our big bed with us.
Winnie also had a little bit of trouble adjusting to the polished wooden floors, so was a little nervous getting on/off the sofa and bed due to sliding.
However, we woke to a beautiful crisp day and decided to have our first full day of walking.
Forest Holidays is self-catering, however, there is an onsite restaurant (located in the reception building at Forest of Dean) where they serve breakfast/lunch/dinner and you can have hot food delivered to your cabin!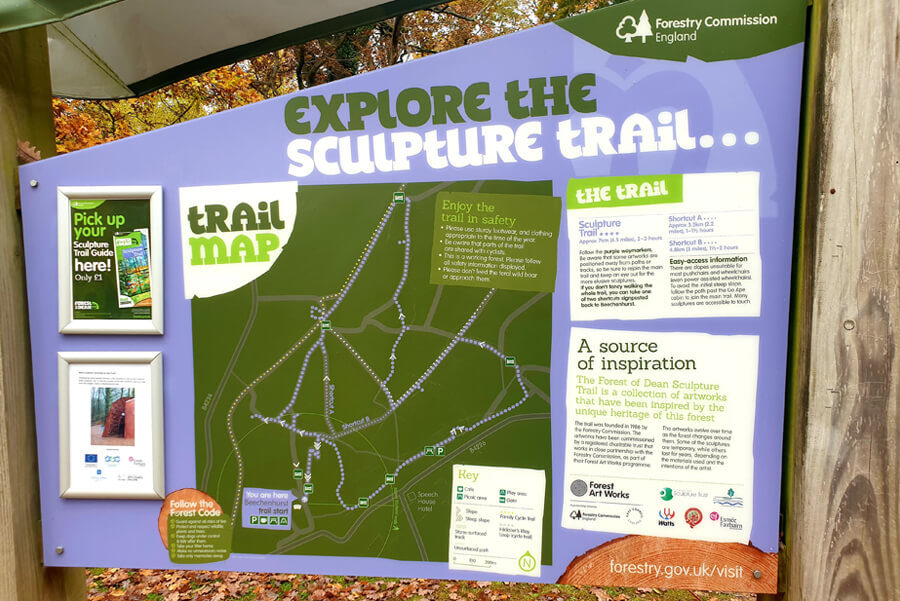 The Sculpture Trail
We went to Beechenhurst Lodge to attempt the Sculpture Trail – the full trail is about 4.5 miles long (if you are good at sticking to paths), we did just over 6 miles in about 3 hours, as we had to double back in a couple of places and go 'off-road' because of deep mud and following the Winnie as she led with her nose!
The autumn colours were spectacular! The majority of the trail has gravel embedded paths so is reasonably accessible but due to the time of year some sections were quite deep mud – so if you have mobility difficulties or are planning on using a pushchair I would wait a couple of days after rain before trying this route. Some of the paths crossed with the cycle trail as well, so keep an eye out for cyclists.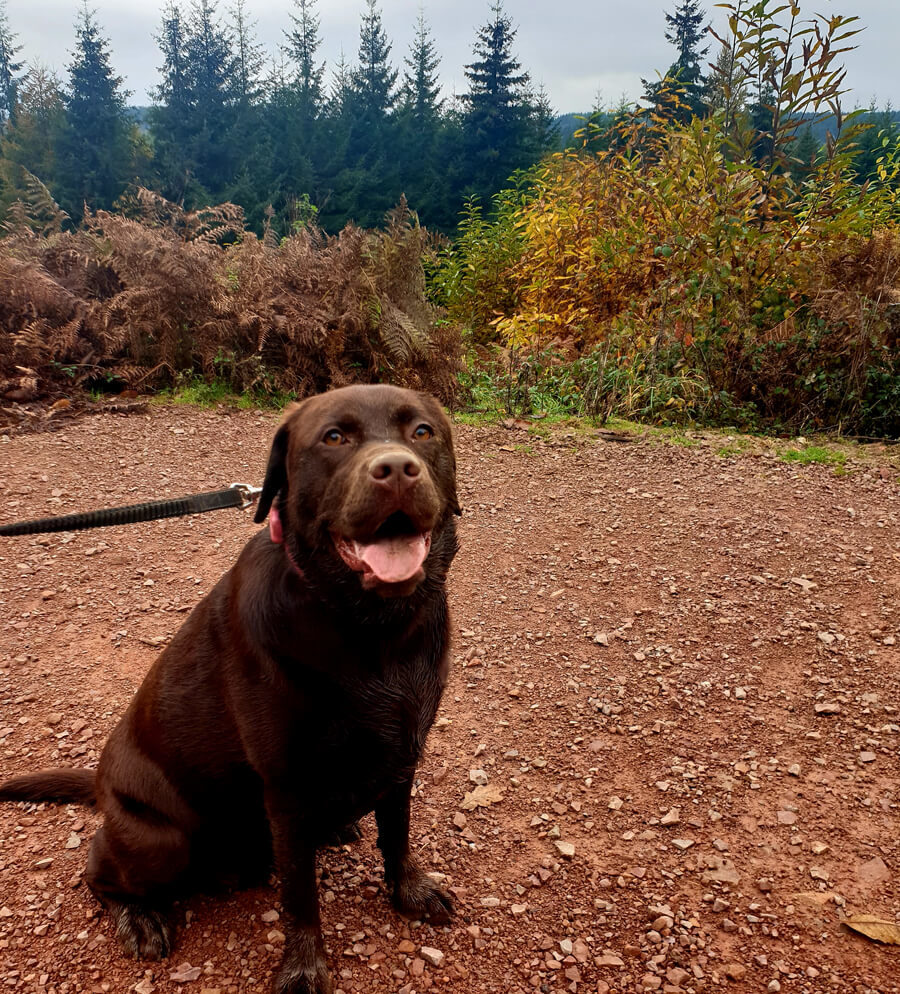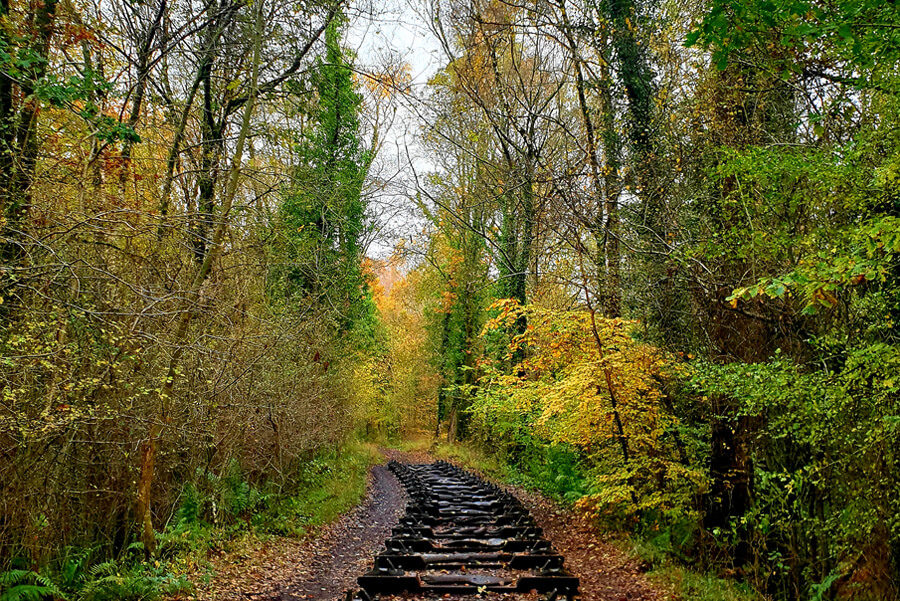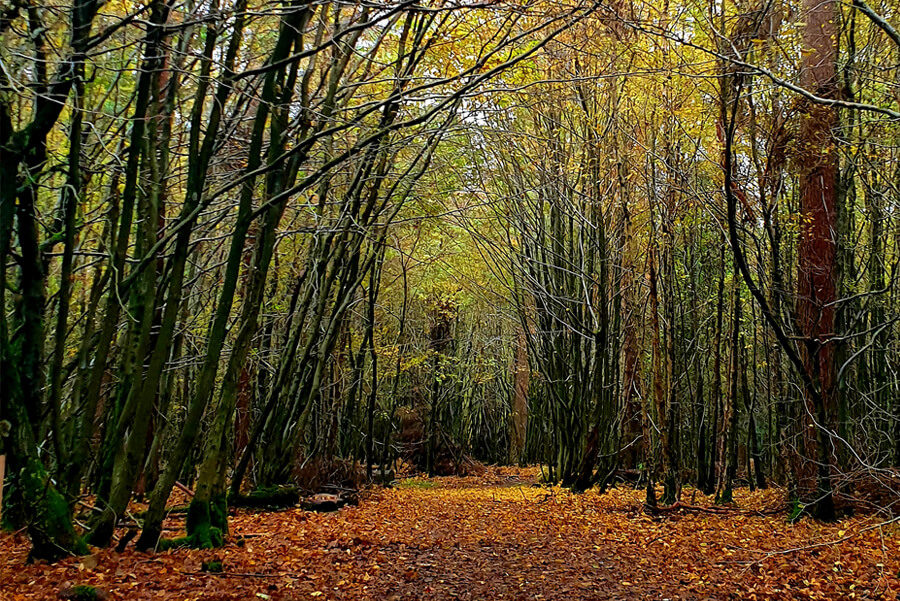 Winnie had a fab time splashing about in a freshwater stream, which we were very happy about as by this point she had had a good roll in the sloppiest mud puddles! We have already made plans to come back and explore more of the forest in the spring/summer for a day trip.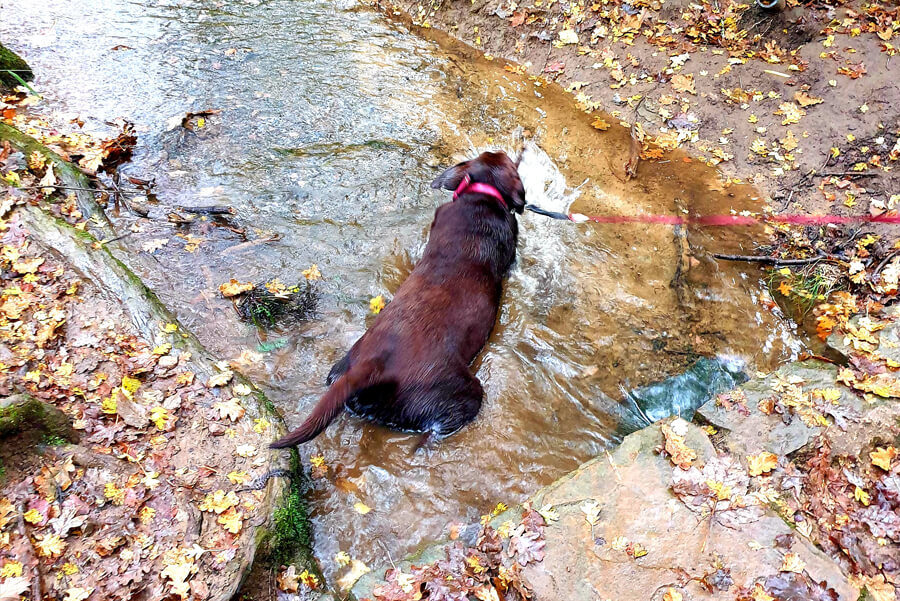 We returned to the cabin, Winnie went straight into the bath for a shower – she then made the most of the underfloor heating to dry off and we took the opportunity to spend some more time in the hot tub whilst she was snoozing!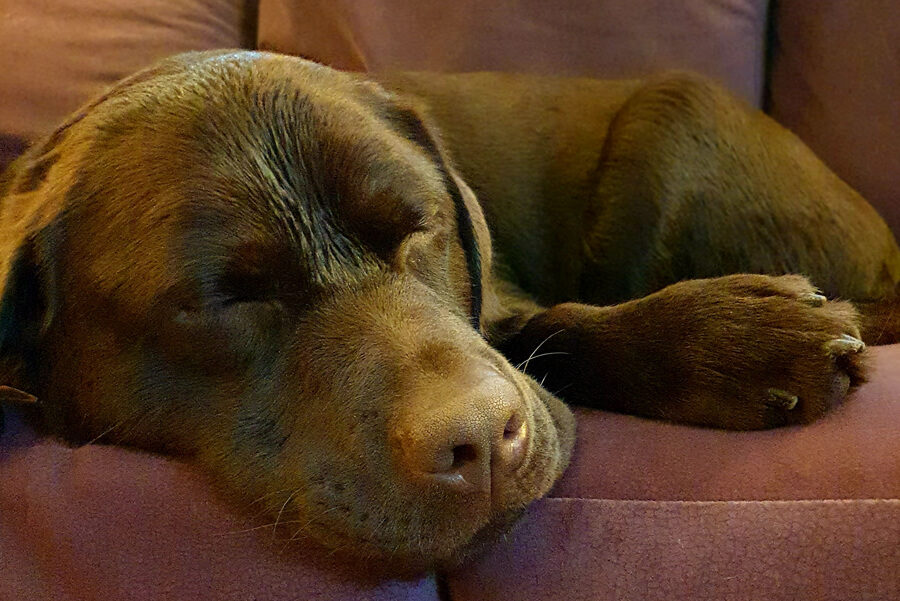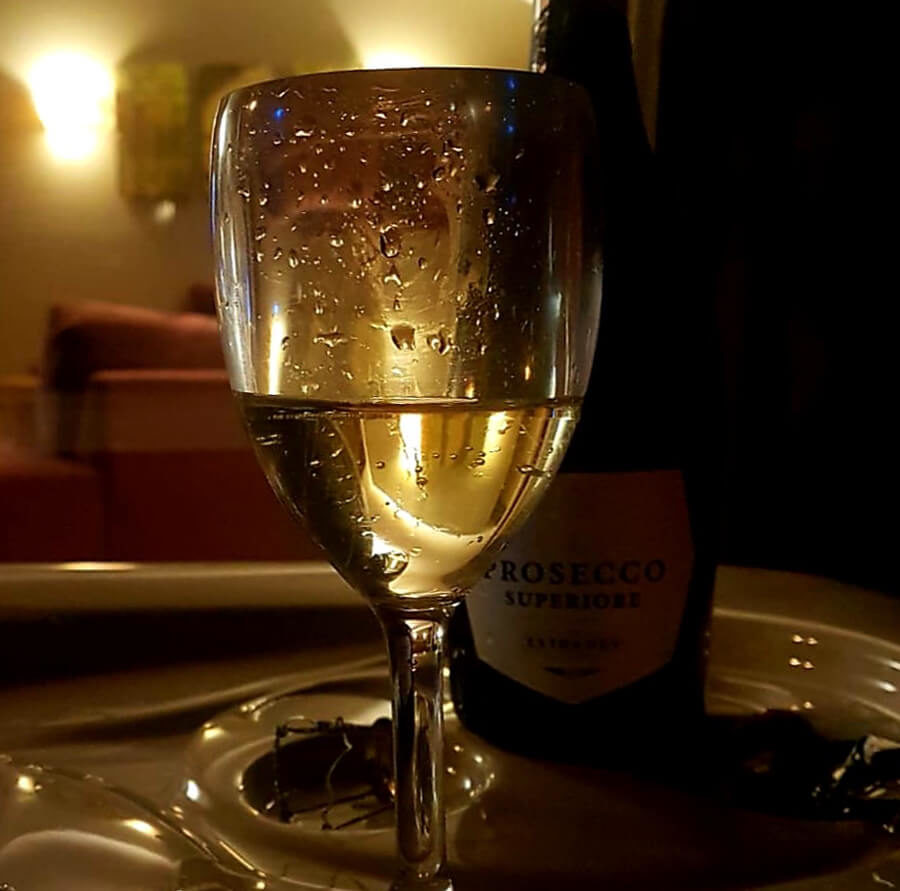 Day 3
We woke to a cold and drizzly day so made the executive decision to have a lazy day!
Following yesterday's walking and spending lots of time in the cold air; Winnie slept much better and was settling into the cabin; making friends with the staff checking the hot tub – watching as they worked was very intriguing!
We made the most of the Entertainment package that Forest Holidays offer by having a sofa day and watching some films.
We did pop for a pub lunch at The Woodman Inn, Parkend – extremely dog friendly, free treats on the bar (which a few of the locals gave to Winnie for being such a good girl) and a couple of new labrador friends made! Of course, Winnie was also on holiday, so she had a sausage for her lunch!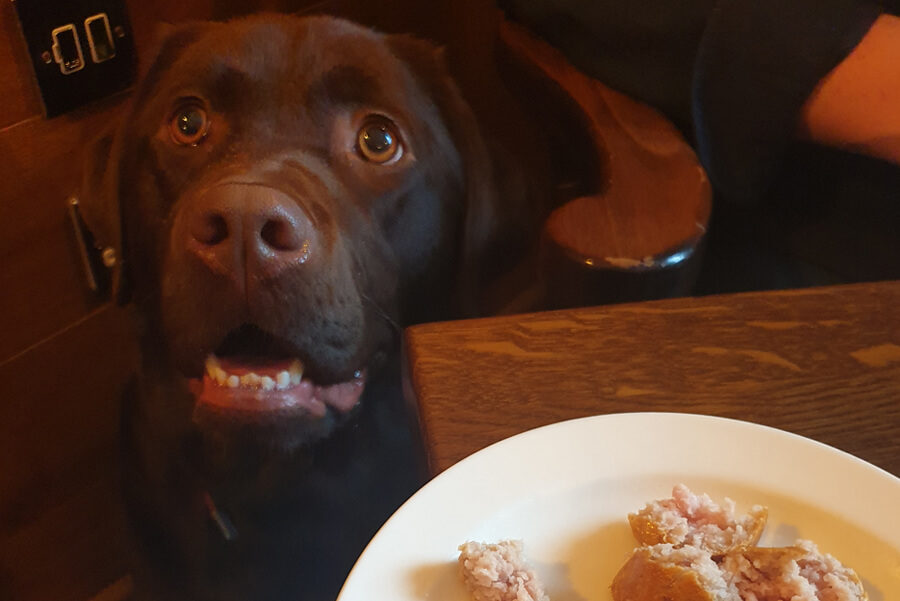 On returning to the cabin, we decided to watch a film with a hot chocolate – we very quickly discovered that Winnie *loves* the squirty cream that we had for the hot chocolate topping!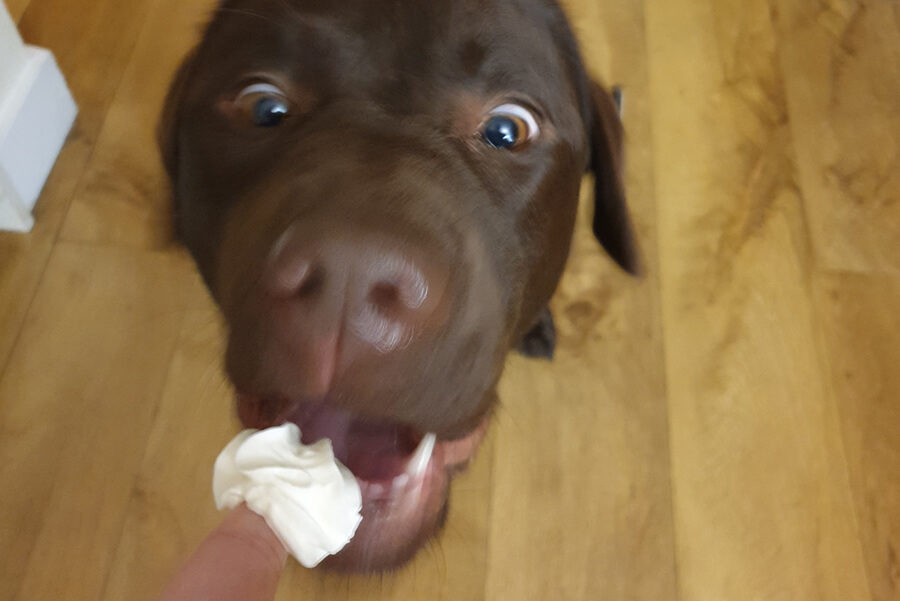 Day 4
Our final full day was spent going on a few shorter walks to explore more of the local Forestry Commission sites. We were so fortunate that we chose the autumn as our holiday season as the forest was stunning; it was the week after half term, so the sites we went to were all sparsely populated – I would expect them to be extremely busy during school holidays.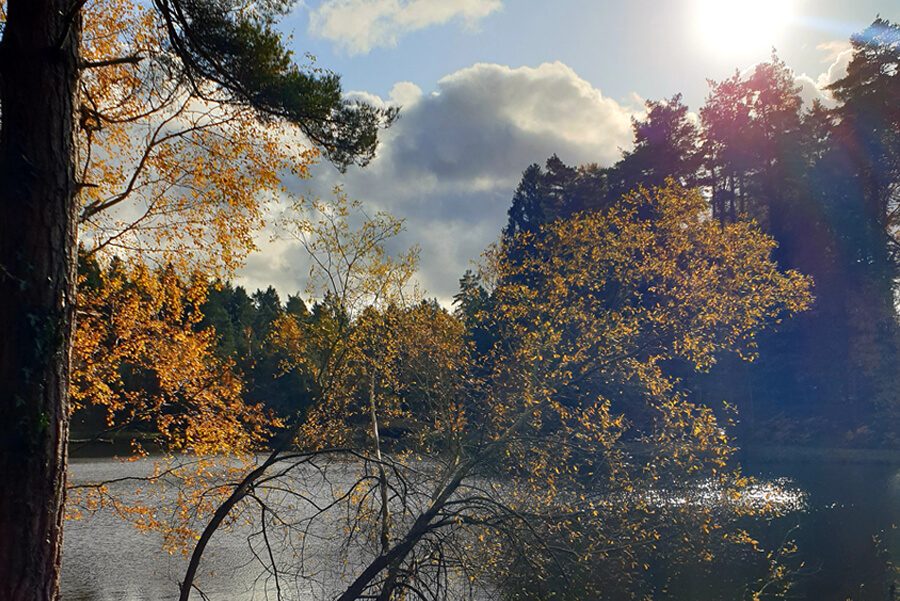 Mallards Pike Lake
First on the agenda for the day: Mallards Pike Lake – the accessible walk for this one is just around the lake, however, if you want to explore more there are running trails signposted throughout the surrounding forest.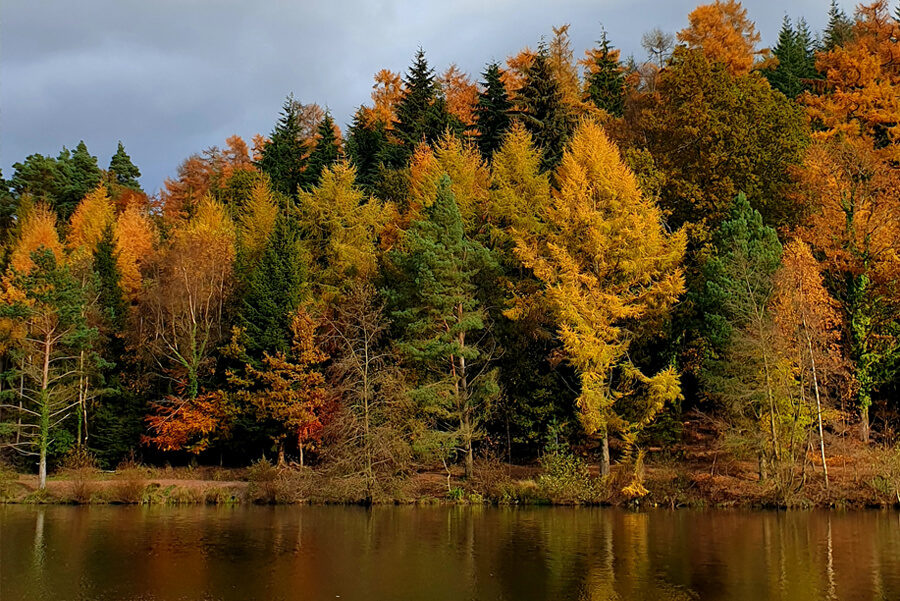 Usually Winnie is not one for jumping into the water, she prefers water she can walk in to – but excitement got the better of her and she jumped in! Initially we were concerned that she would have to follow us around the lake to get out or that her hoodad would have to jump in to lift her out (the edge was about a foot higher than the water level), but to our relief, she climbed her way out and proceeded to shower us in muddy lake water!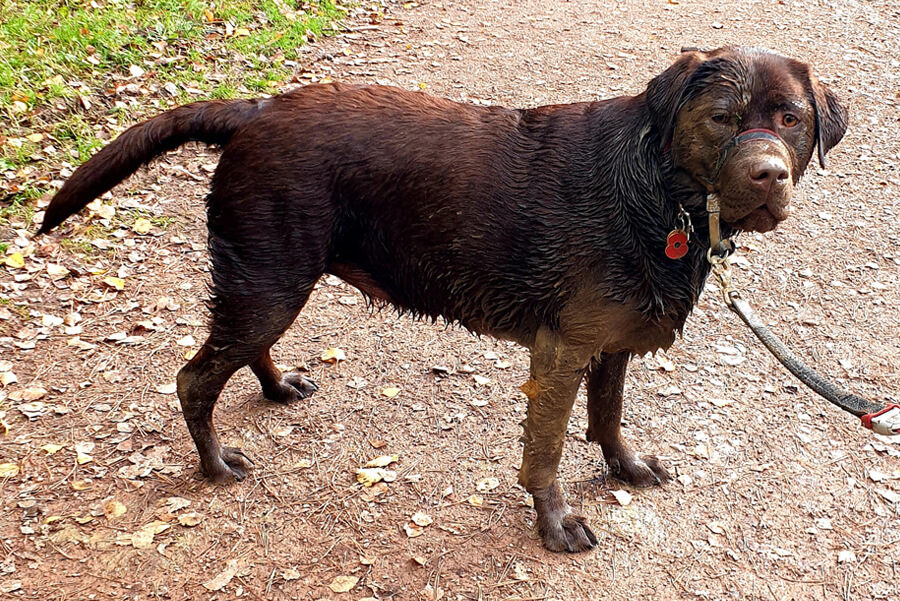 We proceeded to make our way around the lake and Winnie had the best time once she reached the designated "dog dip"area (where the bank slopes for access to the lake). Winnie does not have reliable recall, so she stays on a long line lead.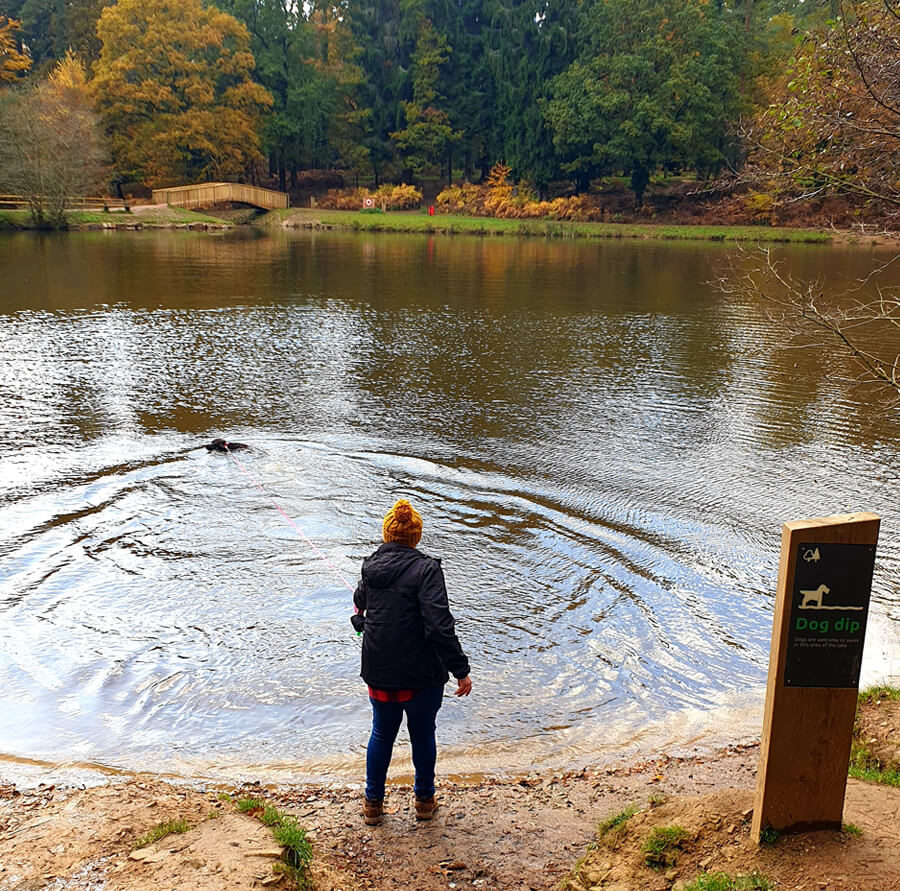 Cannop Ponds
As this was quite a short walk, we proceeded to the next Forestry Commission site: Cannop Ponds.
Another site of outstanding beauty, Winnie likes to try to make friends with everything she meets – but the swans in this location weren't keen!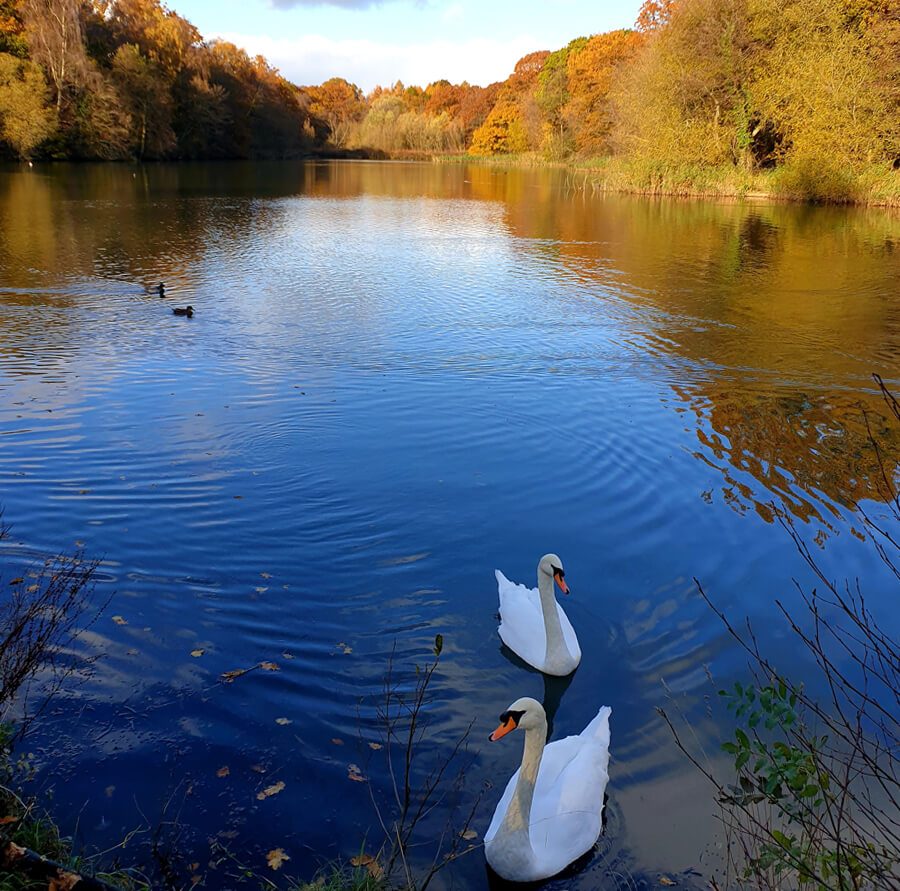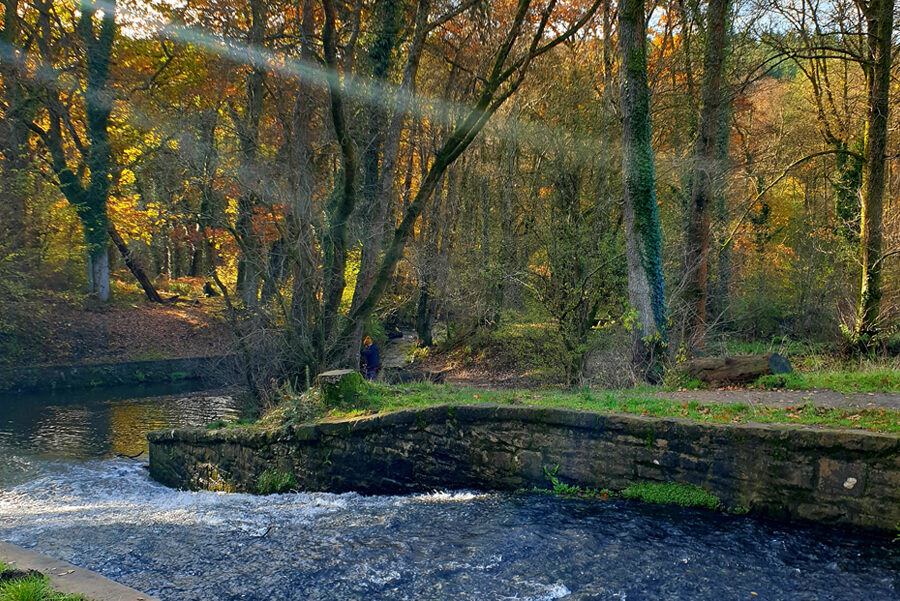 Worth noting – if you walk along the edge of the lake you will walk towards a main road where there is a crossing to more of the forest – however, this is not gated, so I would recommend dogs on lead until you either curve around to the right of the ponds or cross to the additional forest areas.
Symonds Yat
Area number three for our last day was Symonds Yat – the views across the Wye Valley were exceptional. There are peregrine falcons that nest in the cliffs and are very active during the summer, but we didn't see them during our visit.
We parked in the main car park and followed the white posted viewpoint walk – this takes you up by the cafe and then further up the rock to the viewing point – this path was graveled and well maintained so would be suitable for buggies/wheelchairs but it is approximately ¼ of a mile up a (not too steep) hill before the cafe, then an additional incline to the viewpoint.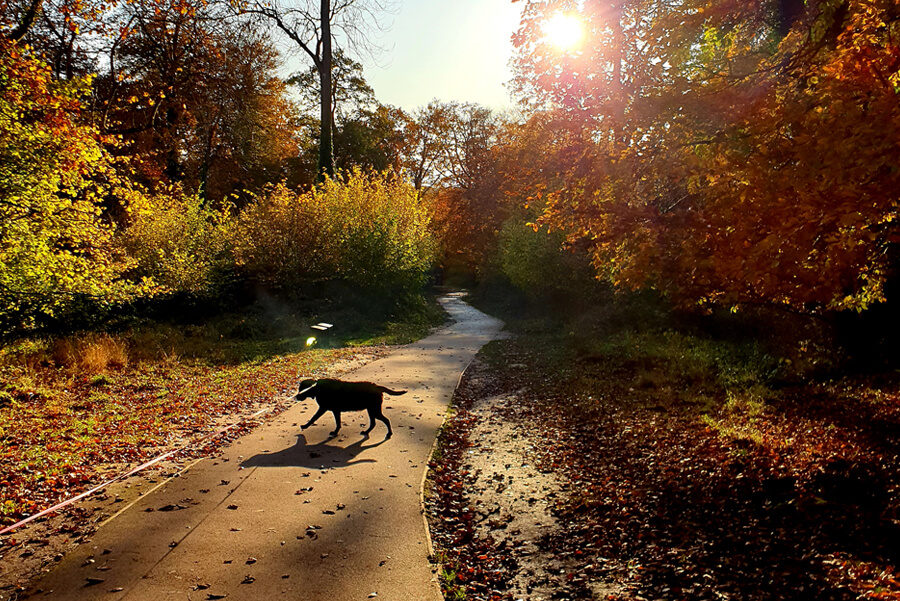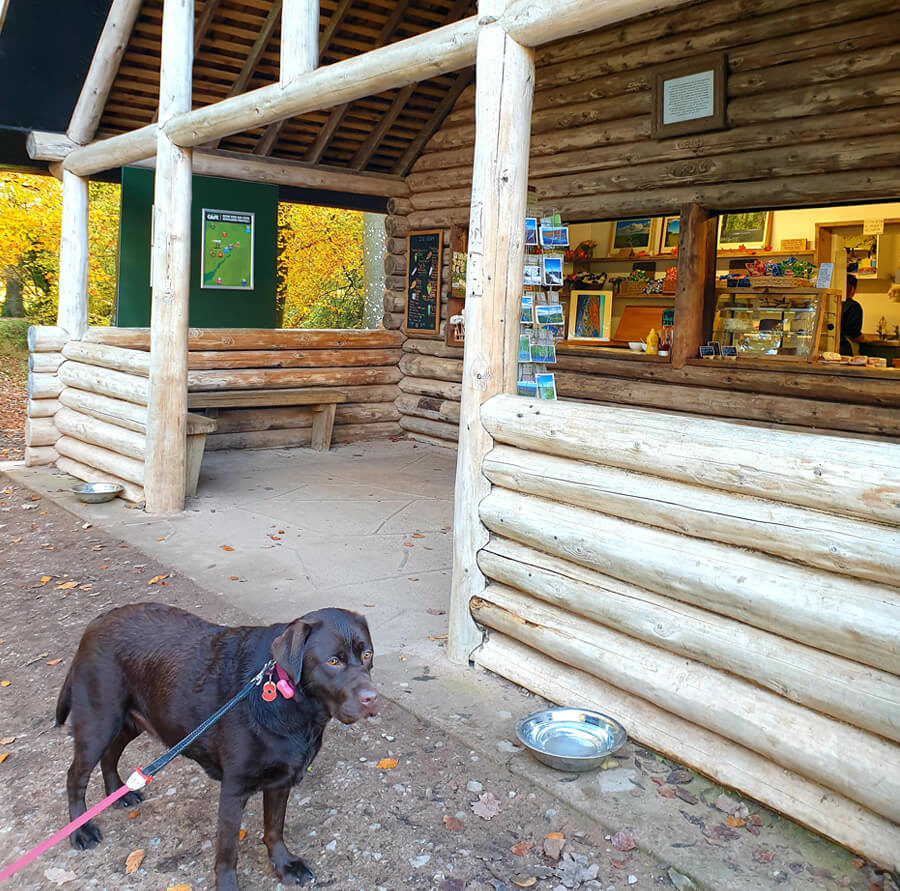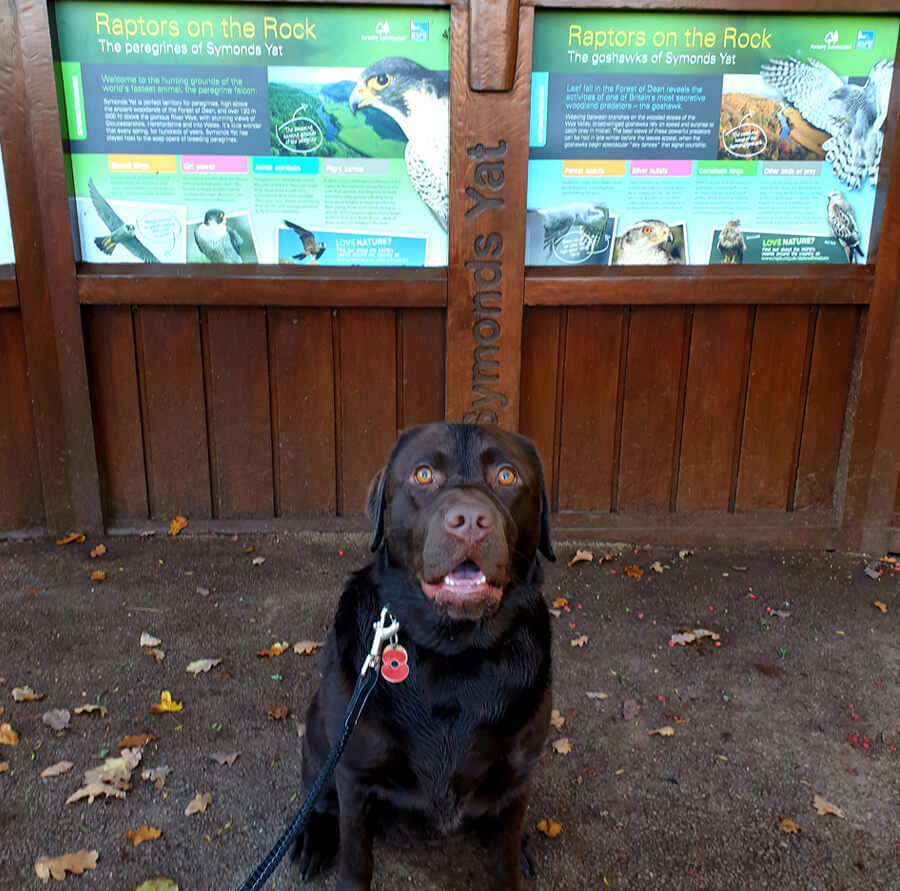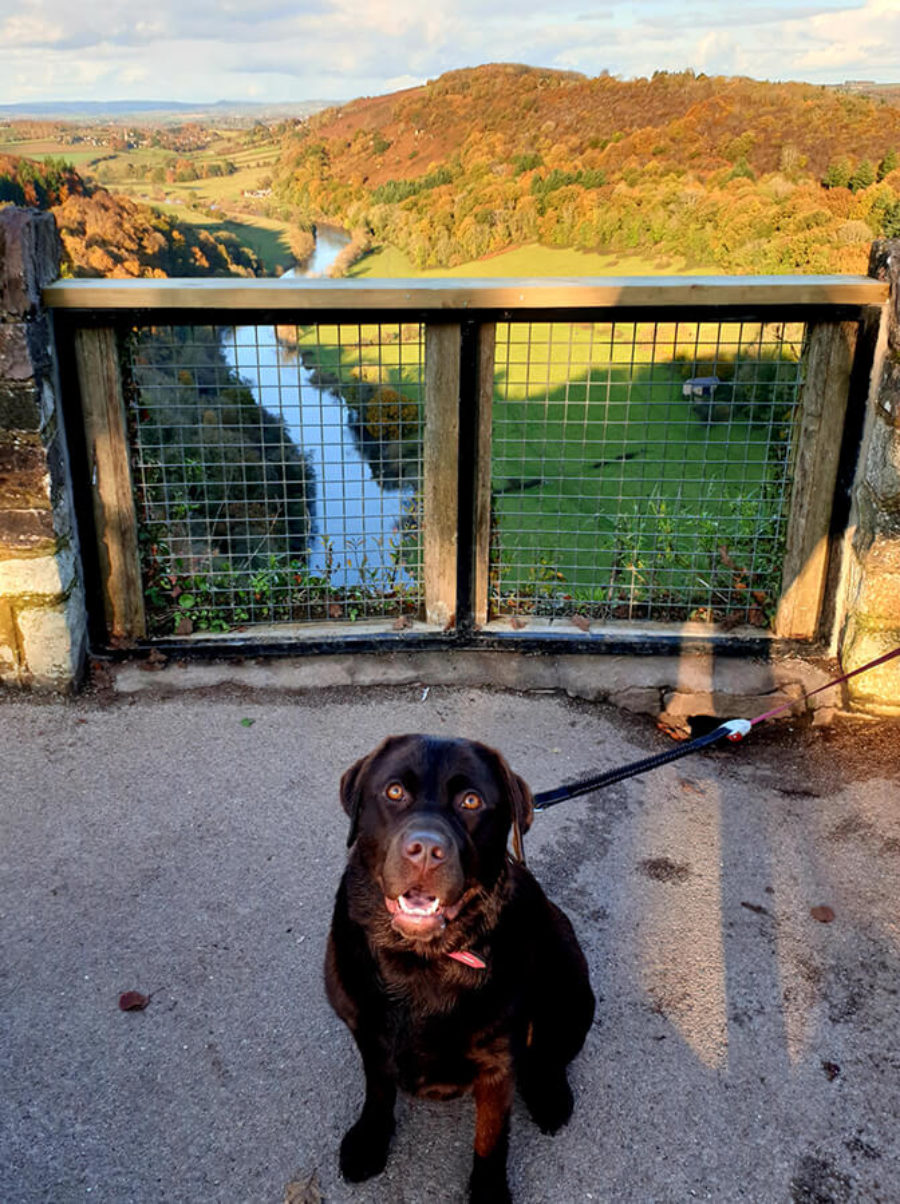 Day 5
Forest Holidays check out time is 10am – if you haven't ordered any food (through the TV) or done any additional activities that need to be paid for, you can drop your cabin key into the key box in reception. (As with the early check-in, you can pay for late checkout – which means you don't need to leave the cabin until 12pm).
Cotswold Wildlife Park
We had seen photos of other dogs on the Bristol Barkers Instagram at Cotswold Wildlife Park, we were 50 mins away in our current location, so we decided to treat Winnie to an early birthday experience!
It is safe to say, she loved it! Her favourite animals were the penguins, closely followed by the colobus monkeys – who actually came to the window of their enclosure when Winnie jumped up to have a look!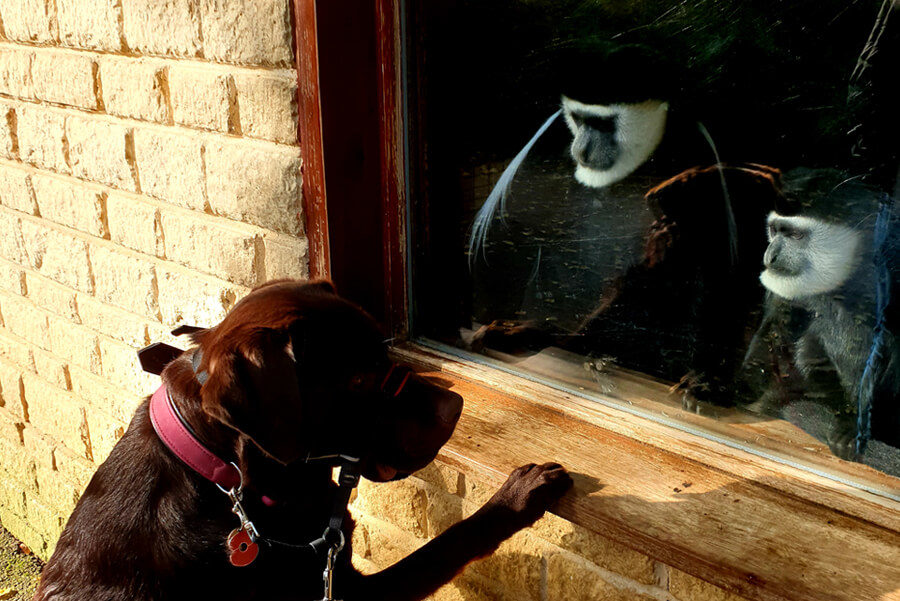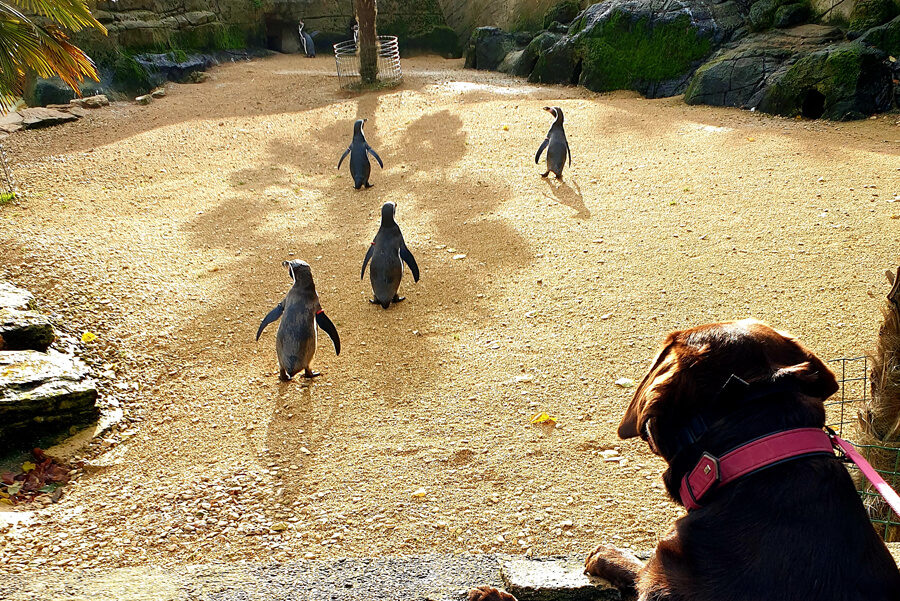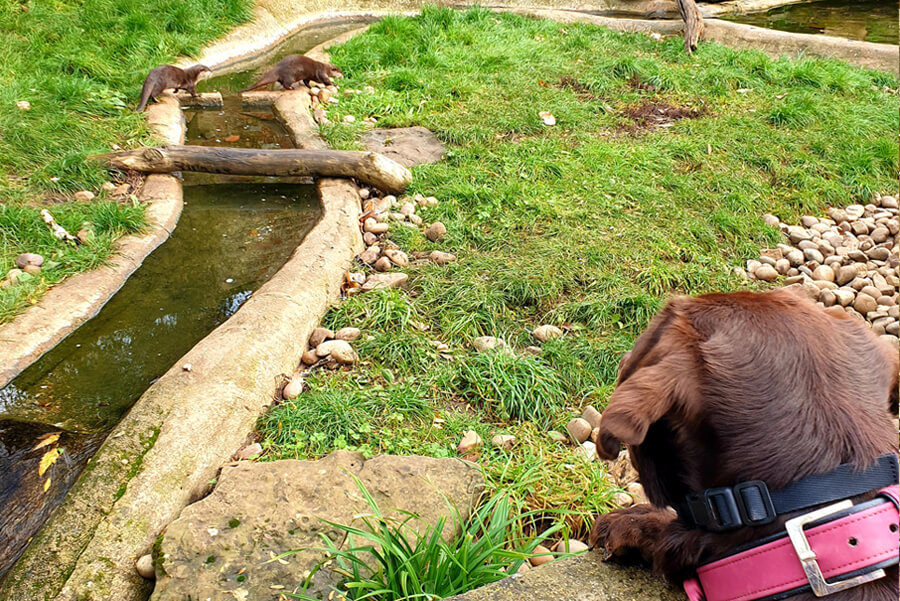 Winnie also thought that her luck was in when she smelled raw meat, and followed the smell up the ramp to the bridge the overlooks the wolverine enclosure – she was a little disappointed when she discovered that the meat she was seeking had been given to the resident wolverines!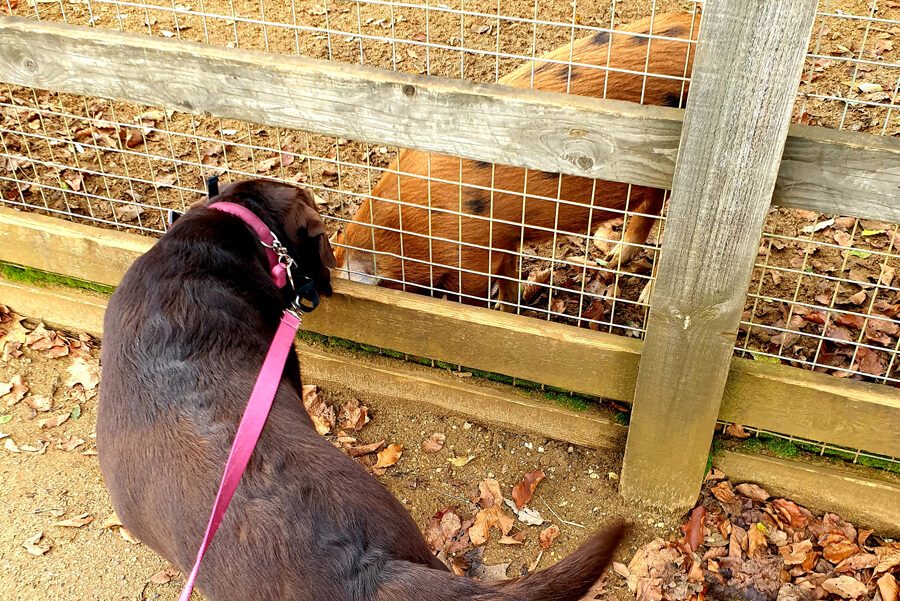 Unfortunately, Winnie wasn't making too many friends in the farmyard area of the park; the pigs were very friendly but she came up against a rooster with attitude and a goat that thought she was too close to his house (and proceeded to butt the fence to get her to leave!)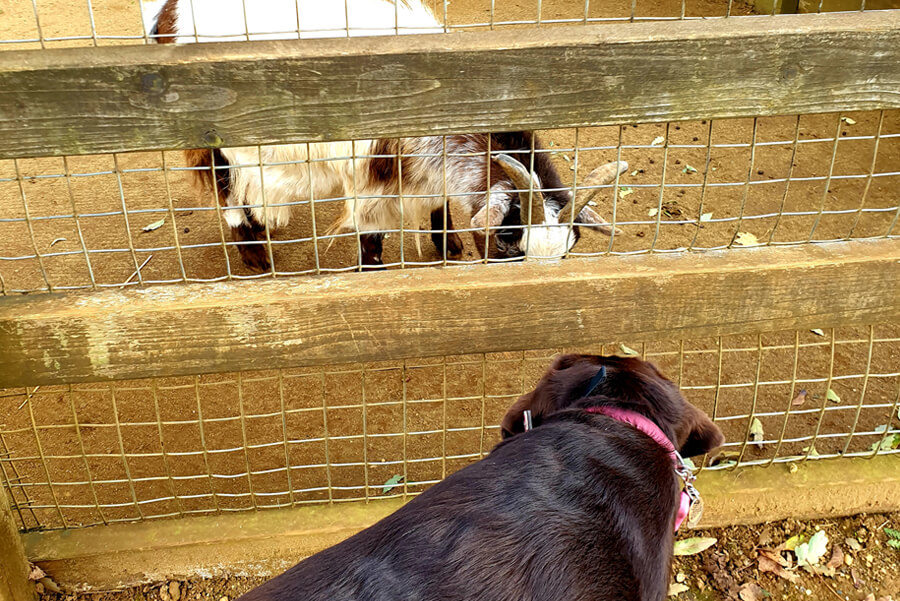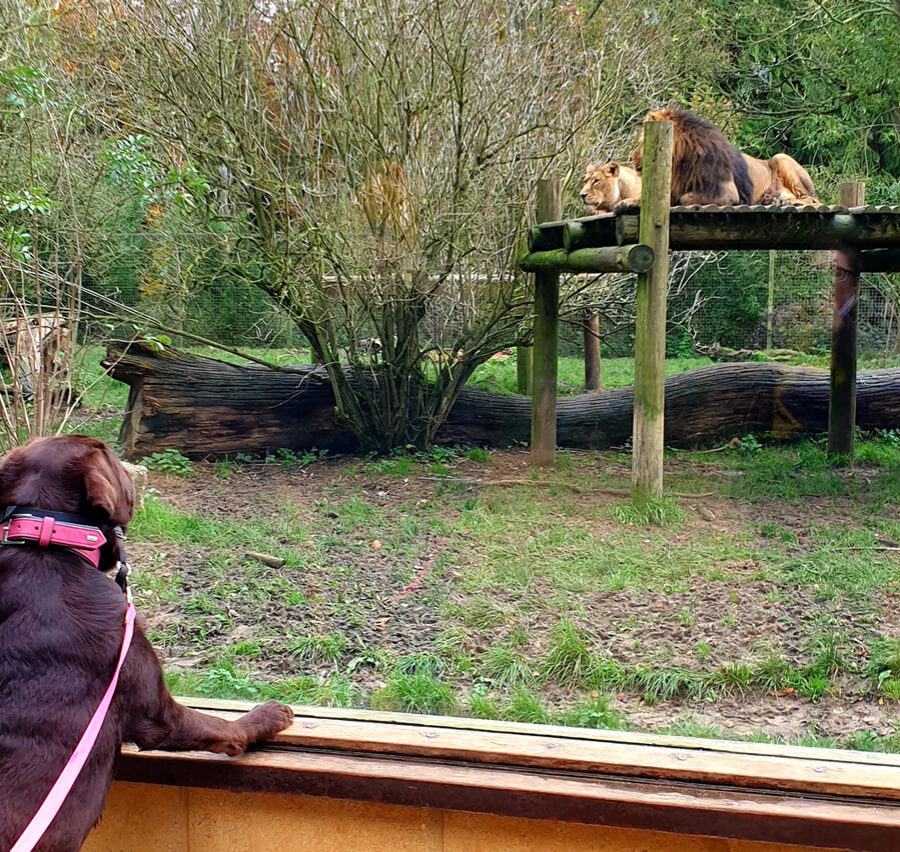 The lions showed a little more curiosity… but we didn't hang about, in case they thought it was lunchtime!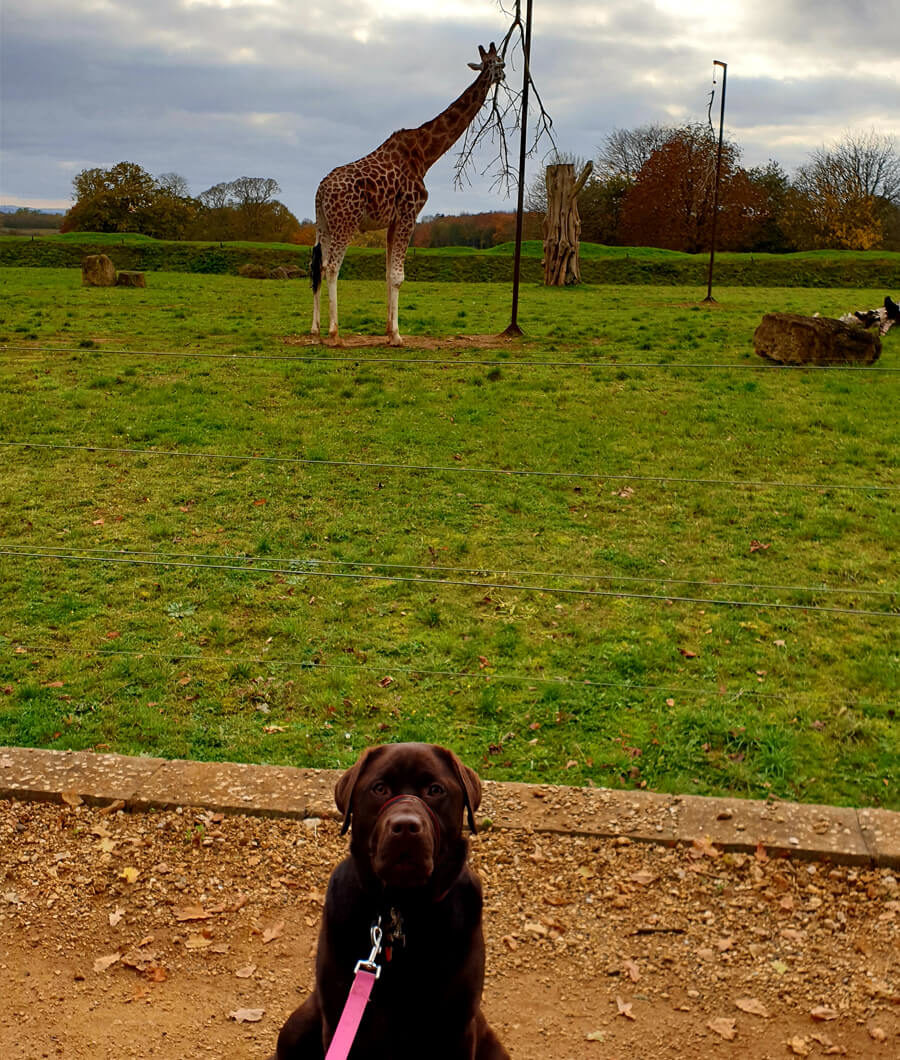 The giraffe didn't seem to mind (you can't take dogs up on the viewing platform).
You can't take dogs through the walkthroughs in the park, we can completely understand why, but it would have been nice for Winnie to see some wolf ancestors!
Recommendations and tips
We had a fantastic dog furiendly holiday; we've discovered places that we probably wouldn't have just done day trips to, had we not visited them on the holiday – due to the traveling time (the last thing you want is to spend up to 2hours traveling to be disappointed by an inaccessible/not dog friendly walk).
We would recommend Forest Holidays for dog furiendly breaks – lots of airbnb or listed 'dog-friendly' hotels have restrictions on dogs on furniture and beds – these are not present at Forest Holidays.
Useful tips:
We used one of the bathroom mats as a temporary doormat by the door to the decking – as it was an autumn holiday the decking was covered in algae (although there are anti-slip strips in place) which Winnie was walking in to the cabin, the mat absorbed the water off her feet well and thereby stopped the interior floors being slippery for us.
Take a foot wash device for your dog – especially at wet/muddy times of the year – this may just be a paranoid dog mum thing, but there has been previously reported an incident of Alabama Rot causing a fatality in Coleford.
If you are traveling with a family, be mindful that the fridge in the cabin is under counter – with a small freezer drawer at the top. As these are the sort of holiday that we like, we have invested in an electric cool box. Our food for the week fit in the fridge – but we were cautious to remove as much packaging as possible before traveling.
If you have a family and need to take luggage and don't feel that you have space in the car for your food for the week/weekend, we did see a couple of people arriving having supermarket food deliveries – this would only work if you paid in advance to choose your cabin number, otherwise it is allocated on your arrival day.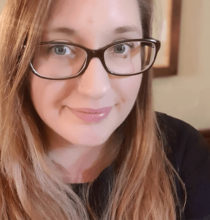 Gill Travers
Gill Travers is a midwife in Bristol and mum to chocolate labrador Winnie, who enjoys staycations where Winnie can come along too!