Dog friendly holiday near Lyme Regis
In January we spent a few days in an Airbnb cottage with our dog Bella, visiting all the walks we could and loving our time by the coast in Lyme Regis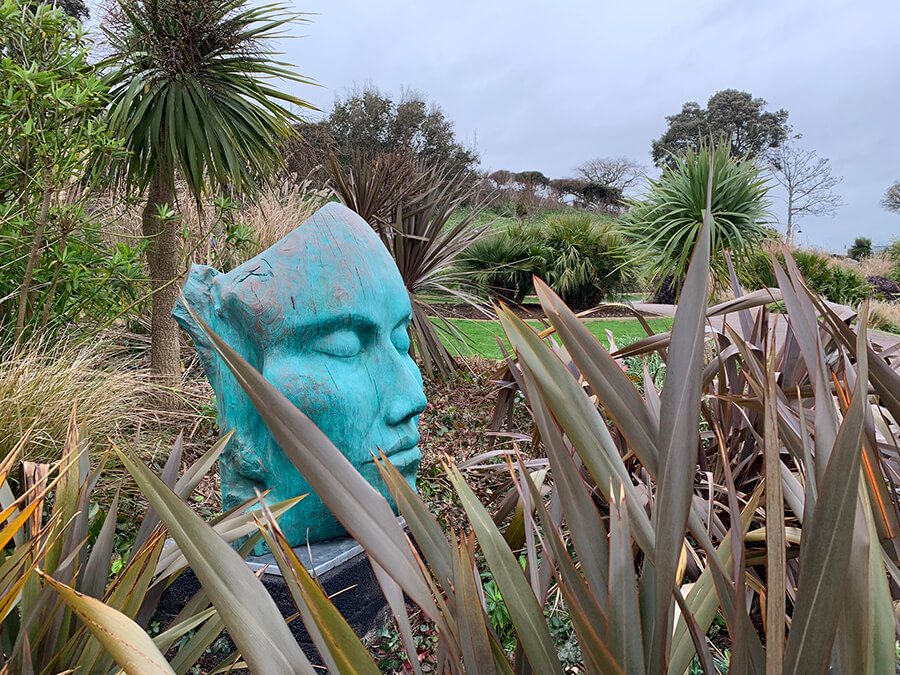 Sections
Charmouth Beach  | Lyme Regis | NT Stonebarrow | Seaton Beach | Beer
Winter weekend break
My husband Adam, dog Bella and I decided to spend a weekend in January near the coast. We had a little checklist; a dog friendly cosy cottage to stay in, a hot tub/jacuzzi (a little luxury for my birthday!), within driving distance of a few beaches, with lots of walks and dog friendly places to eat. Lyme Regis fitted perfectly and is only about 2 hours away from Bristol.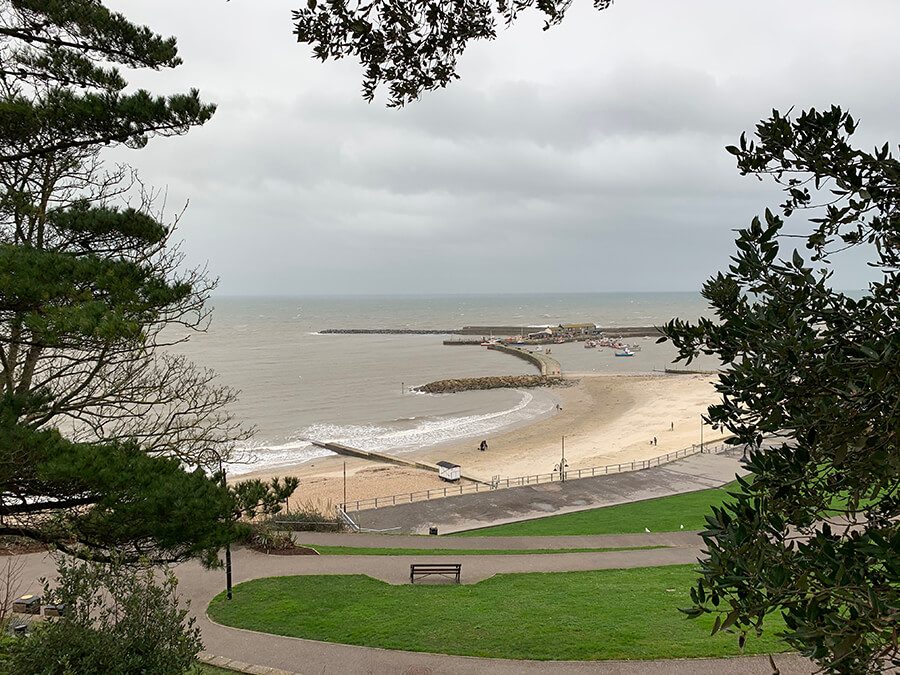 Day 1
We arrived at our little Airbnb cottage – part of Champernhayes self-catering cottages, on the Dorset and Devon border. The cottage is quite small, but has everything in you will need for your stay and a tiny patio area (which Bella insisted on inspecting every morning). The bed was comfy, but the decor was quite dated, so luckily the jacuzzi and the small swimming pool made up for that.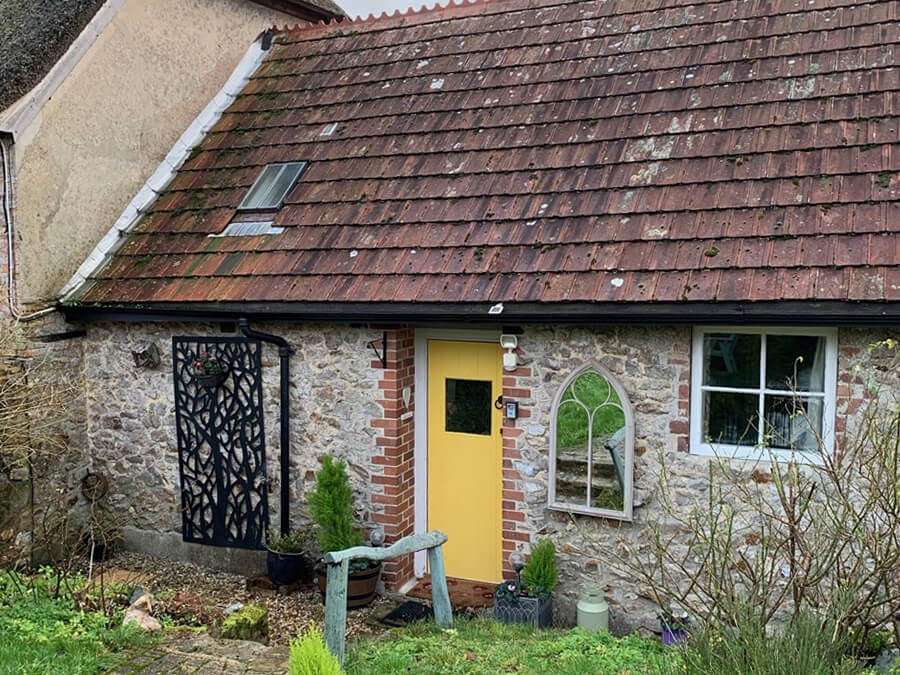 Day 2
We woke up at the crack of dawn and rushed out of the house to catch the sunrise from Charmouth Beach. I've never visited the Jurassic coast before, and was stunned by how magnificent it looked – huge black cliffs towering over the beach with golden light streaming through the clouds. In the cliffs, you can see the layers of silt, rock and mud, and you suddenly turn into a paleontologist, tilting your head back to look at the full scale of the cliffs rising above you and searching for fossils. Bella was in her element, sprinting on the sand, digging for gold and excitedly running up to us as if saying 'best morning ever!' If visiting Charmouth Beach, the whole beach is dog friendly in winter between October and April, but in summer certain restrictions apply, so please check before going.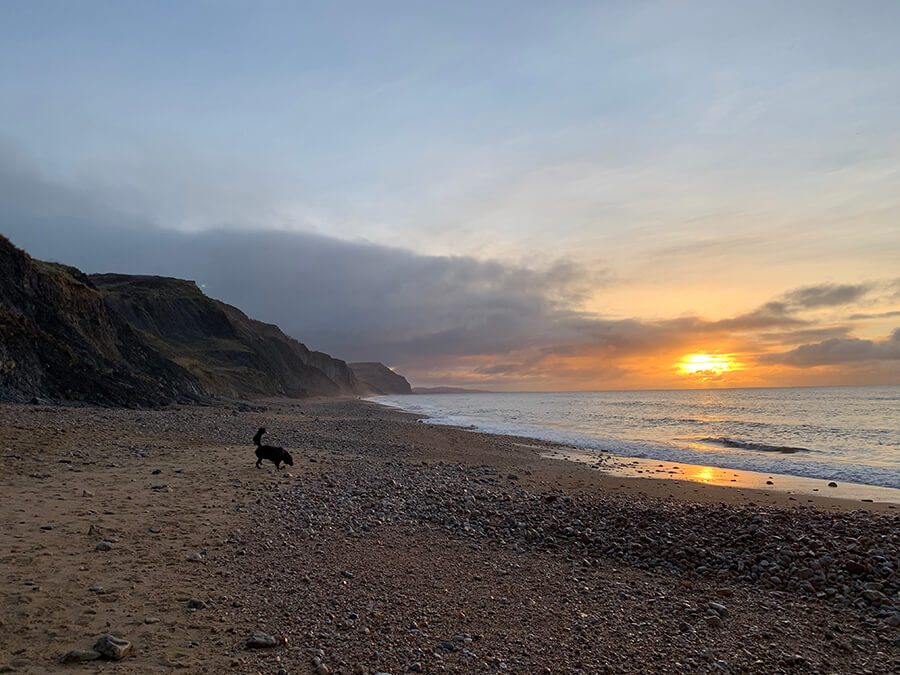 Lyme Regis
We were excited about our next stop; Lyme Regis, a pretty little seaside harbour town rich in history and affectionately known as 'The Pearl of Dorset'. I would highly advise visiting in the winter months as dogs are allowed on all the beaches, but from April to October there are a lot of restrictions.
The town is a maze of little streets which you only find in old historic places, almost like all the houses and shops have been build on top of each other, leaning on each other for support, but it's so charming and so picturesque. Bella absolutely loved the sandy beach, proudly prancing around with her stick, throwing it down and promptly digging right behind it as if on some kind of secret mission. The sea was so calm, so to get a better view, we put Bella on the lead to walk on The Cobb – a famous landmark and a small artificial harbour which protects the shore from the harsh waves and winds.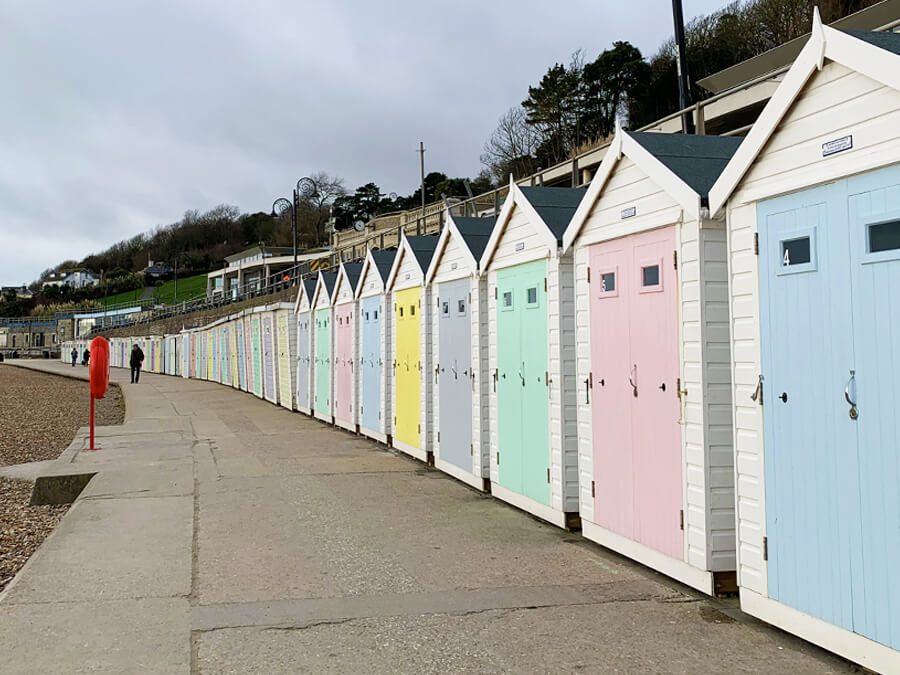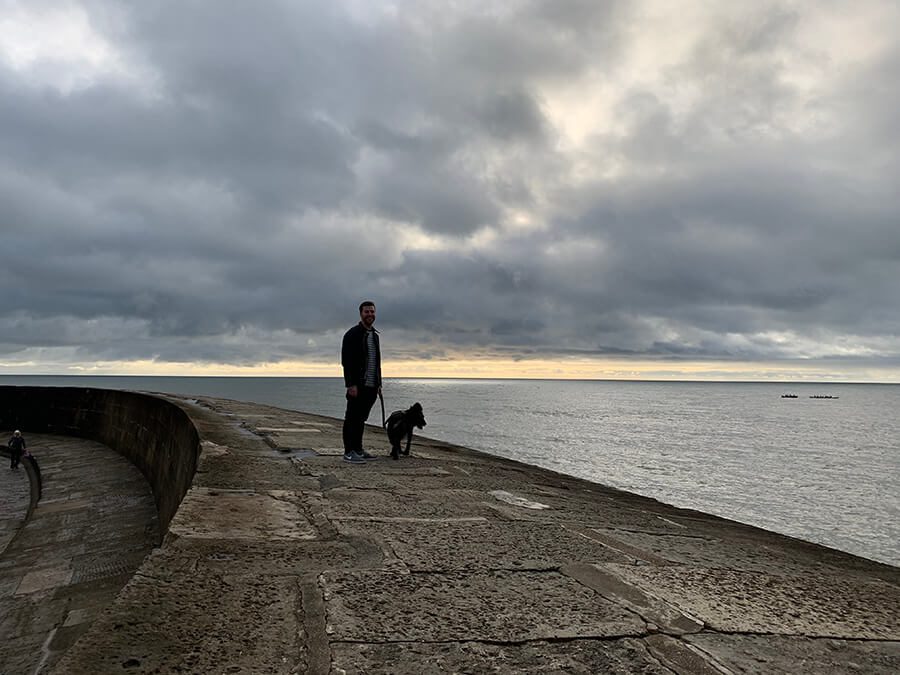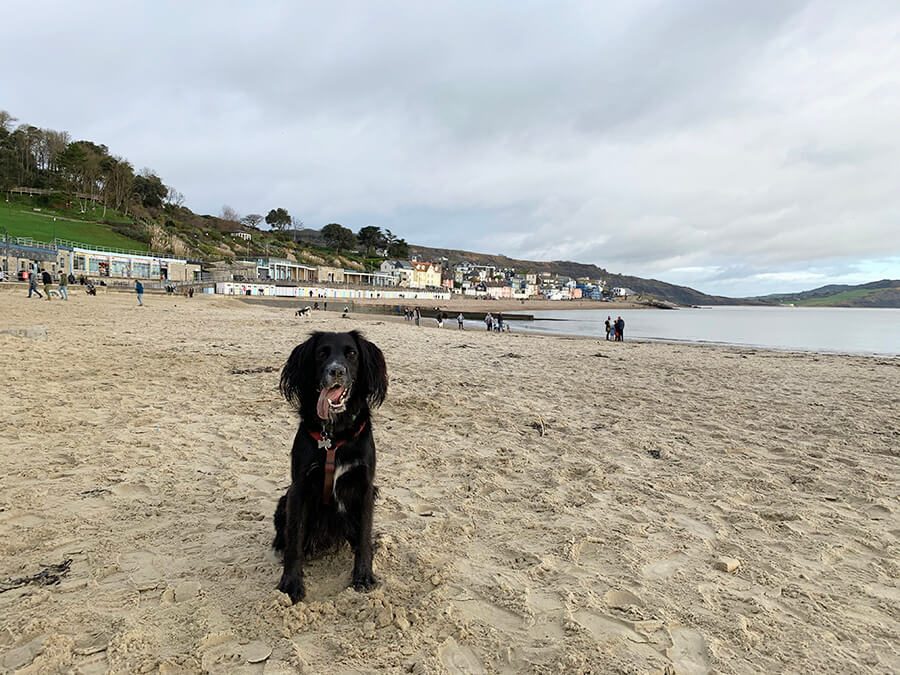 After, we stopped at SWIM – a large, contemporarily decorated and very dog friendly restaurant right on the beachfront. It has floor to ceiling windows, so you can cosy up inside, watching the waves come into the shore and dogs having fun on the beach. We ordered a small bite to eat – some delicious flakey breakfast croissants, tea and coffee.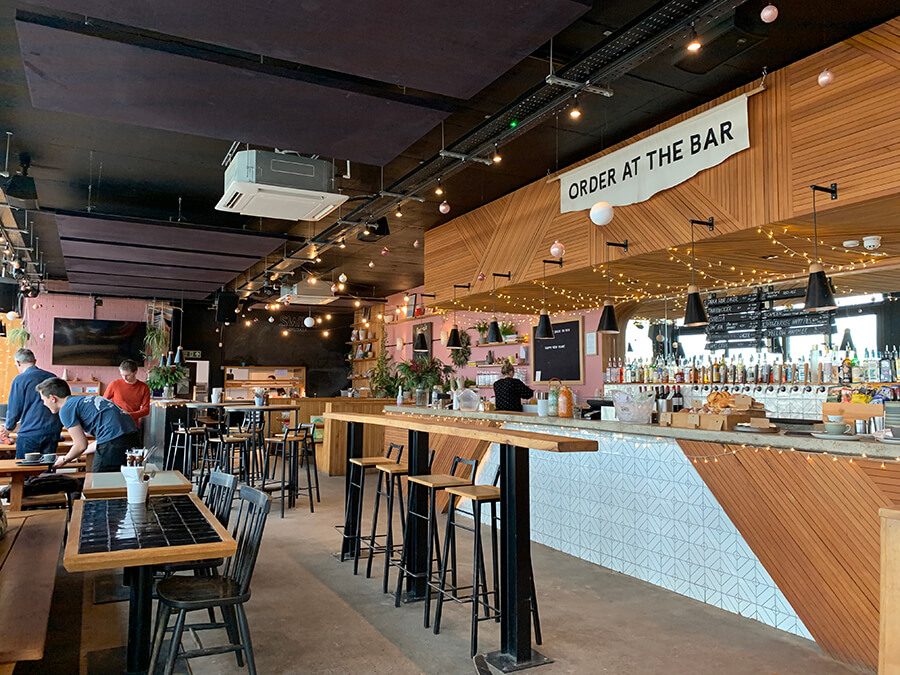 Later, we wandered around Lyme Regis and were happily surprised how many shops were dog friendly. A few shops we visited: Ginger Beer (a lovely characterful shop selling a mixture of homewares), The Seriously Good Wine Company, Pug & Puffin (a fab dog shop). I would recommend stopping by Pug & Puffin as they had a great dog friendly map to Lyme Regis. For lunch, we managed to grab a seat at the only table in Red Panda, which serves delicious, tasty and fresh lunches.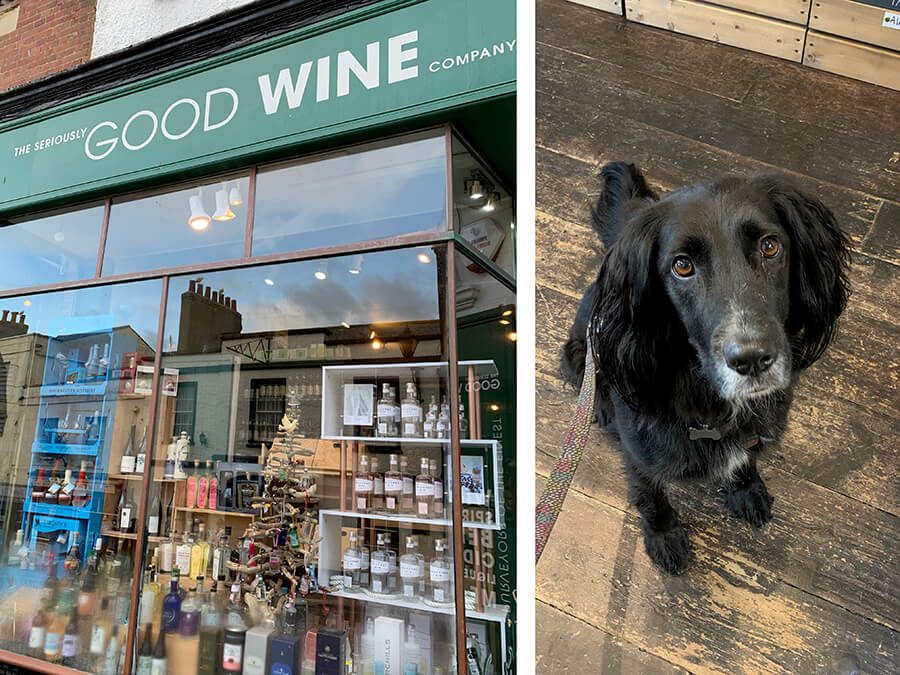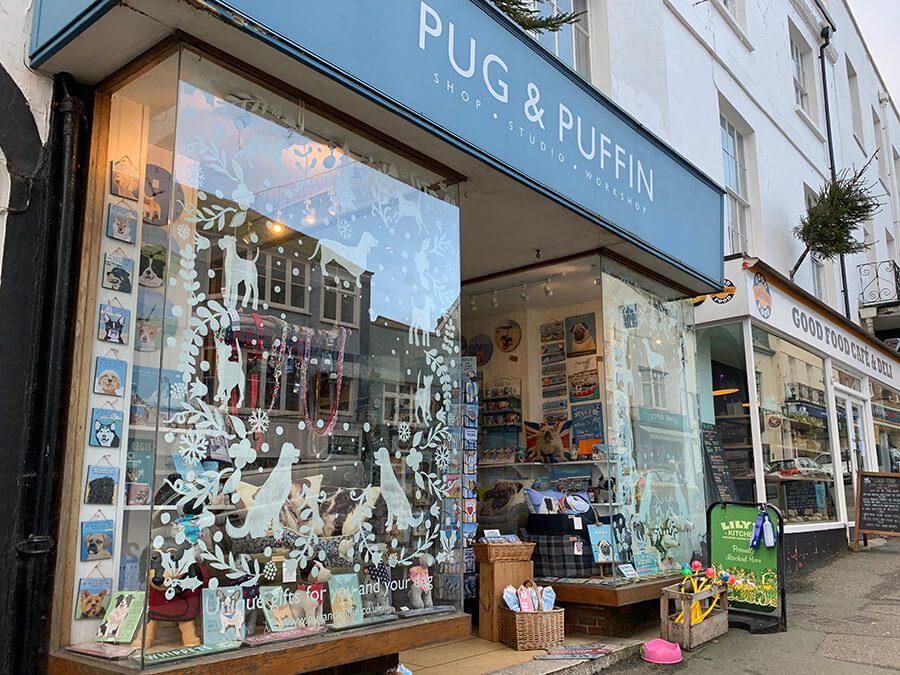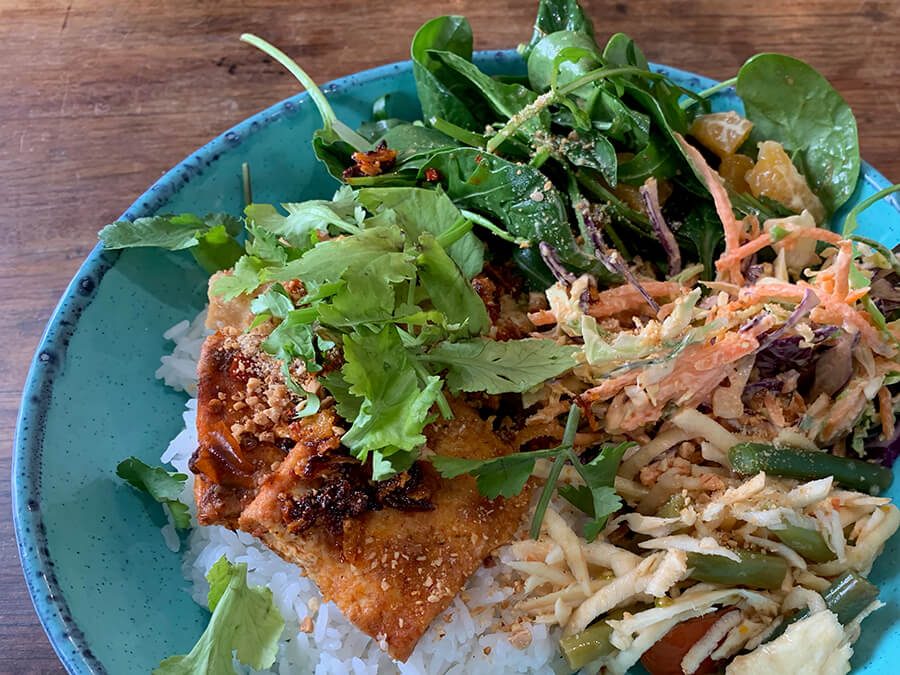 National Trust Stonebarrow
For our afternoon walk, we visited National Trust Stonebarrow, which is a good starting point for exploring the breathtaking landscape around Golden Cap, the highest point on England's south coast. Parking is free as long as you're a National Trust member. There are a multitude of paths and walks, but we opted for a short circular one as it gets dark so early in winter. We walked through open green areas which had brilliant views of the English Channel. Despite being a beautiful place to walk, our walk did lead to a cliff edge with a sudden drop. It's startling how there are no signs or warnings. We luckily had Bella on the lead as I was constantly looking at my OS map on my phone and could see how close we were. If you go here with your dog, please be careful!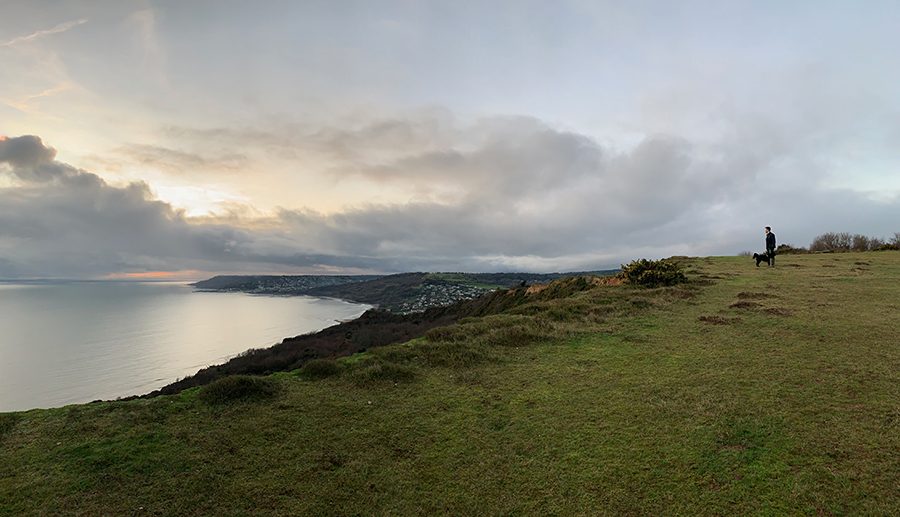 Day 3
In the morning we popped into dog friendly Axminster River Cottage Kitchen for breakfast whilst we planned our day. We later set off to Seaton for a coastal walk to Beer. Seaton Beach is a pebble beach and dogs are allowed all year round, it also has amenities like toilets and cafes. We walked to the end of the beach before climbing up the steep steps to the coastal path. The path looks mostly secure, but we kept Bella on the lead just in case there were any sudden drops.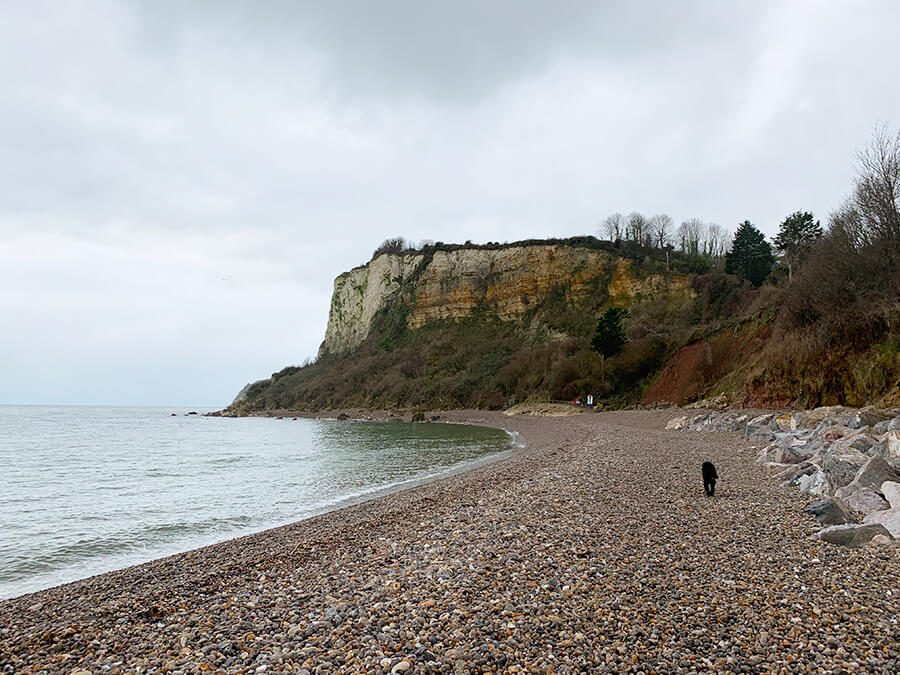 Beer
After walking for about 20 minutes, the path starts descending and you catch a glimpse of Beer – a picturesque fishing village with a small pebble cove beach. We wandered down to the beach but were sadly greeted with signs that state dogs can be on the beach but they need to be on the lead. We couldn't see any more information about dogs, but we think they might be allowed on a small section of the beach in winter, but it wasn't clear at all. Being Sunday, most of the shops were closed, so we grabbed lunch at Anchor Inn which was very dog friendly before heading back to Seaton.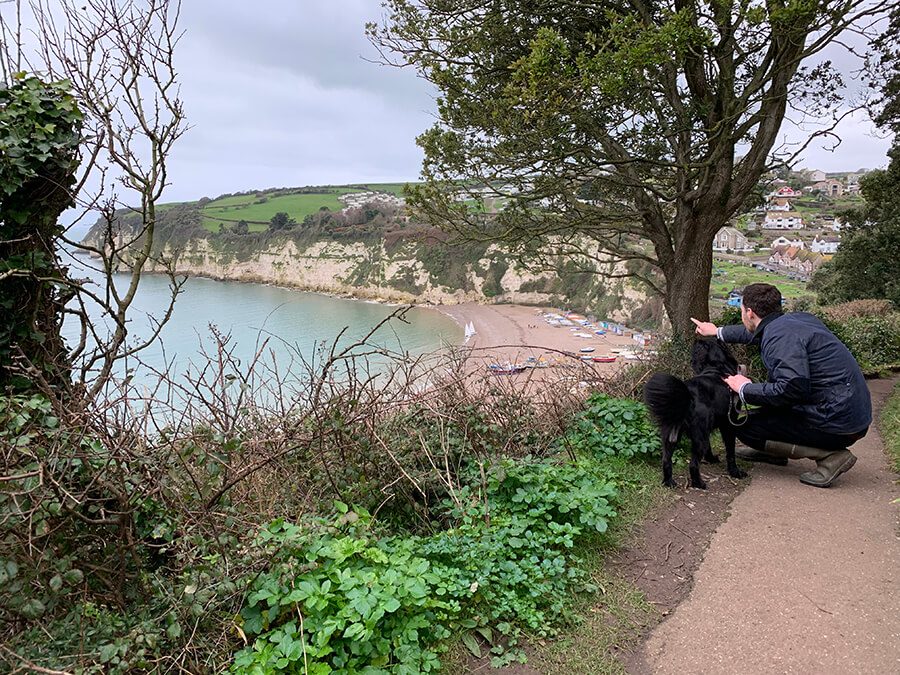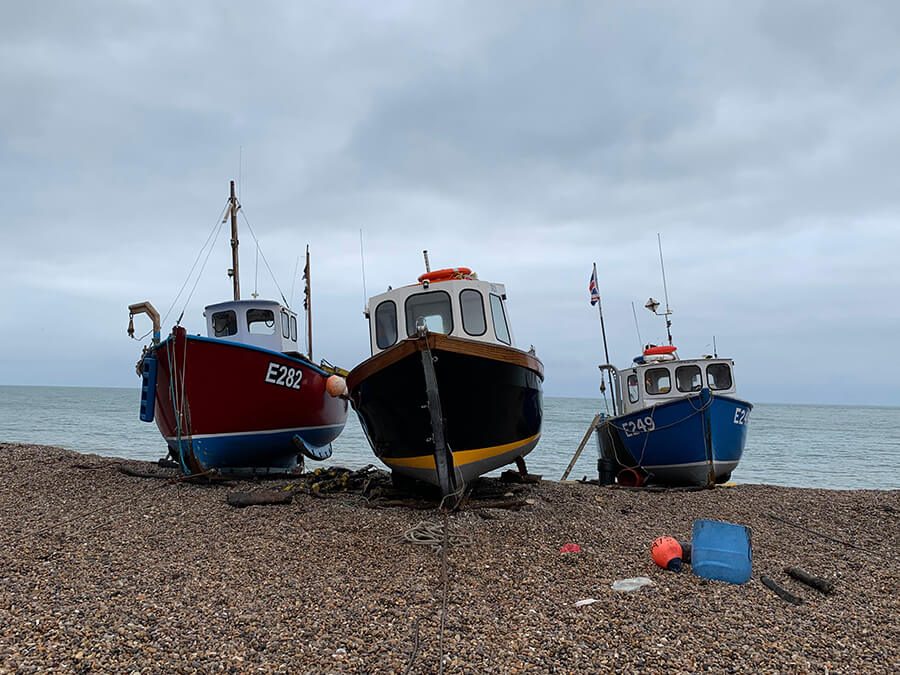 That night we headed back into Lyme Regis for dinner at The Pilot Boat, which had been recommended to us. Dogs are allowed in the bar area, but not the restaurant. The food was delicious, the pub was cosy with little candles on the table and they had a great selection of beer.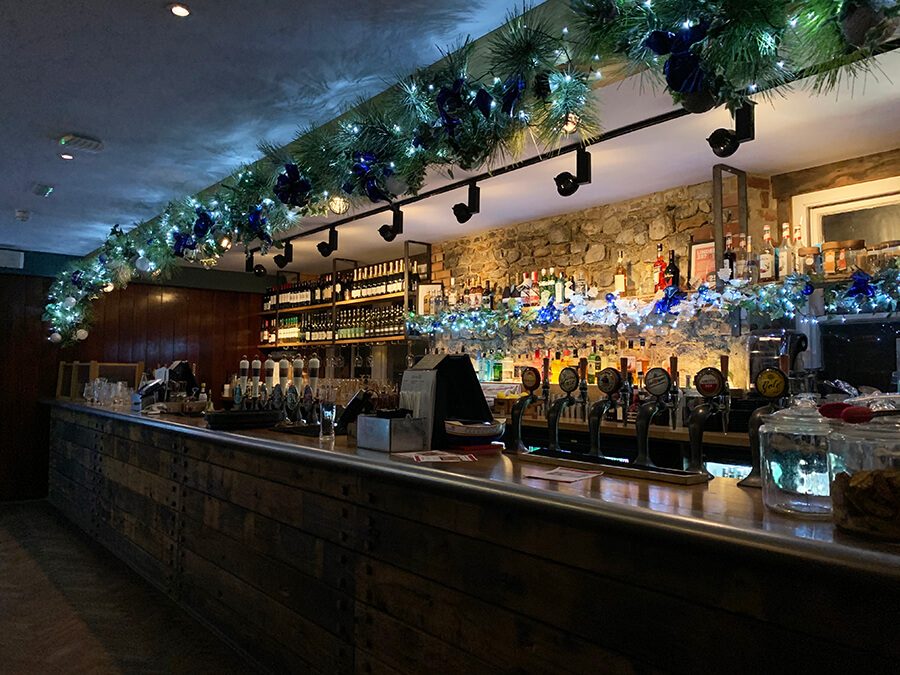 Day 4
We said goodbye to our holiday cottage and decided to go back to Lyme Regis for breakfast before heading home. We had breakfast at SWIM, relaxing inside whilst they brought us our delicious breakfast. We would highly recommend visiting.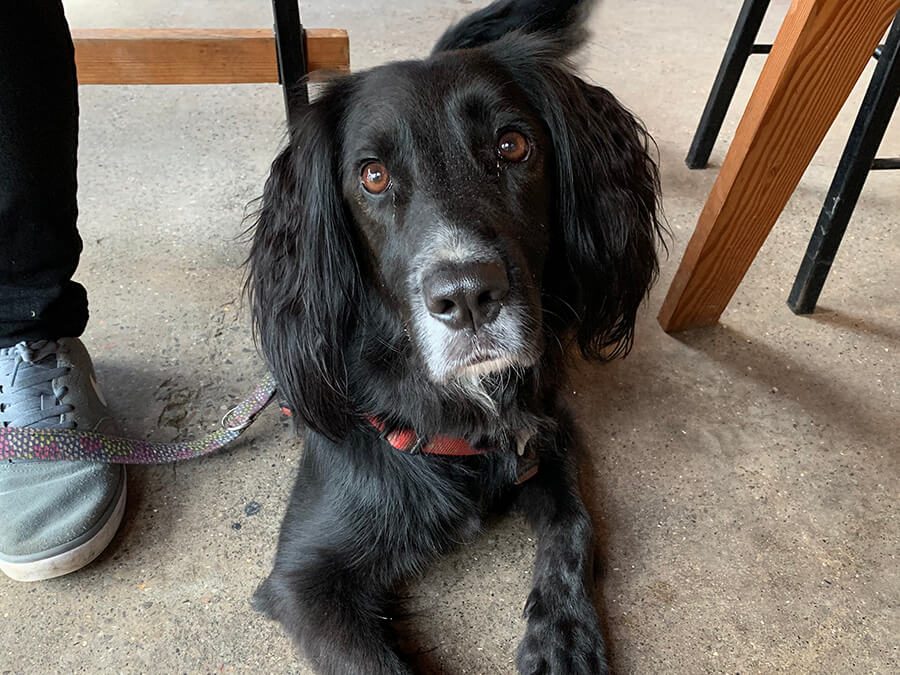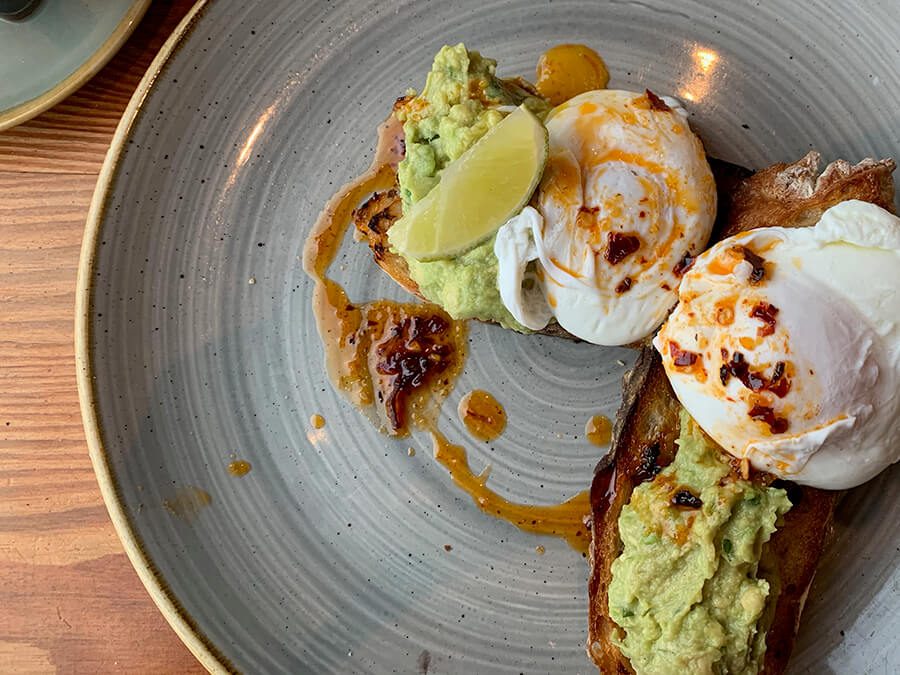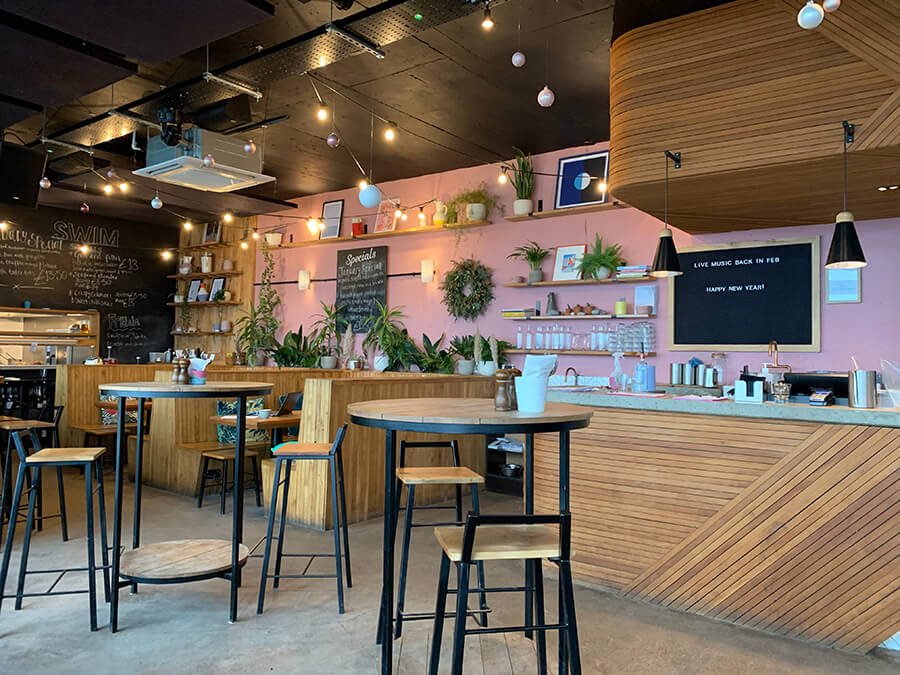 We loved our time in Lyme Regis and can't wait to return and explore even more. However, the town council is considering banning dogs from the main beach in Lyme Regis all year, so if this happened, I don't think we would return as we want Bella to feel as welcome as us when we go on holiday in the UK. Fingers crossed they continue to welcoming dogs!