Walks & Cafes
When meeting friends, family or just when you want to make more of your walk, we adore going for a walk with our dog Bella somewhere and then stopping off at a lovely cafe for some brunch or lunch. If it's sunny, we can usually sit outside, but in winter, it's nice to tuck away inside and shield from the cold with a cup of tea.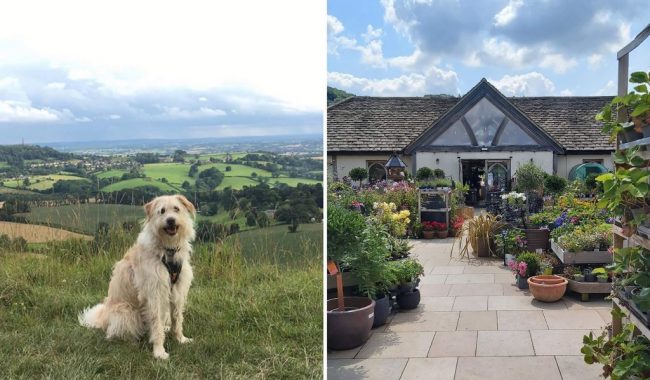 Leaf & Ground & Stinchcombe Hill
Leaf & Ground is an all in one walk, cafe, garden centre, deli and shop! Boasting 20 acres of their own ground for a dog walk, Leaf & Ground is a real favourite of dog owners, where afterwards you can stop in their dog friendly cafe for a full English breakfast or spot of lunch. Just behind Leaf & Ground is the Cotswold way, allowing you to walk up to Stinchcombe Hill, where you can make your walk as long as you like, with stunning views over the Cotswolds.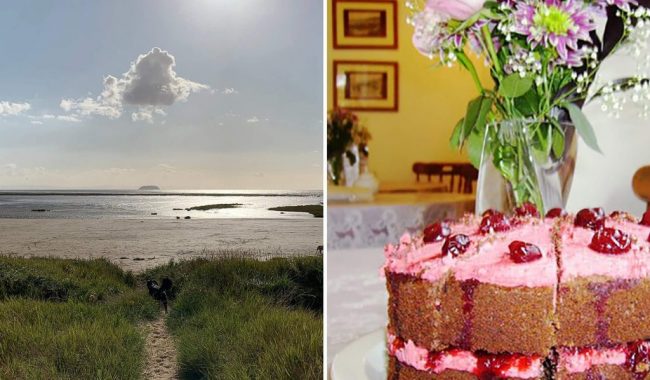 Sand Bay Beach & Sand Bay Tea Rooms
A wonderful few hours walk, with a huge sweeping beach and a stunning trail along the Sand Point peninsular, which juts out from the coastline, creating a natural pier. After your walk, stop at super dog friendly Sand Bay Tea Rooms, serving traditional cakes, soup and freshly prepared food for humans and 'Doggy Cream Tea' for the pooches!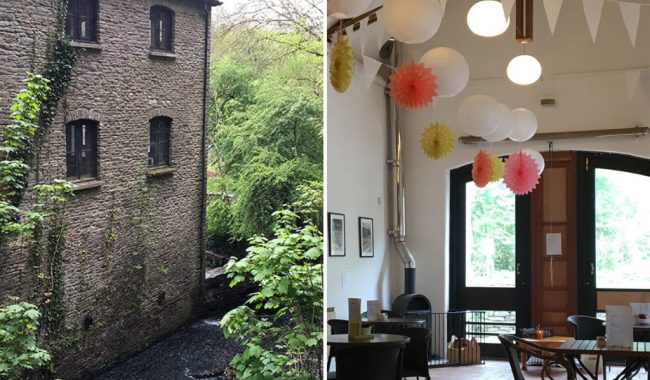 Willsbridge Mill & Willsbridge Mill Cafe
A wonderful circular walk in a wooded valley, centring around a picturesque, old 18th century mill and the Siston Brook. It is a little oasis hidden amongst modern housing estates. Rich in history, the valley was once the site of milling, quarrying and a coal dramway, and there are still signs of this industrial hertiage. Make sure to visit Willsbridge Mill Cafe on the way around for a light bite and cuppa, where the friendly staff are always happy to see dogs and if your pup is good, they might get a cheeky biscuit!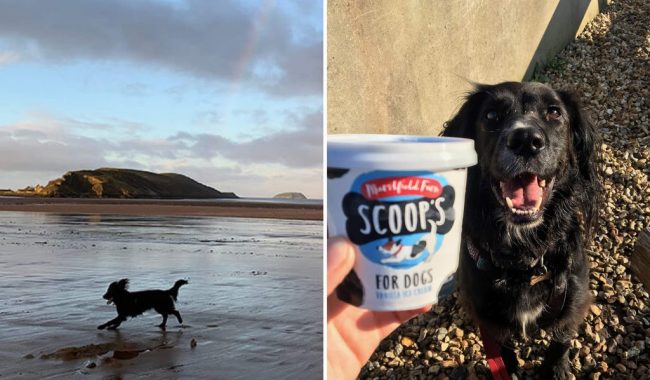 Uphill Beach & The Boathouse
We absolutely love visiting Uphill for a few hours before stopping off at the wonderfully dog friendly Boathouse cafe. Start your walk on Uphill Beach, before wandering across to the lovely, flat salt marshes, which have boats dotted around, moored on the banks as you walk around. After venture up to the nature reserve, which overlooks the estuary, giving you spectacular views. Finish your walk by stopping at The Boathouse cafe, who go the extra mile to make dogs and their owners feel welcome, with puppucinios and dog treats on the menu! Highly recommended.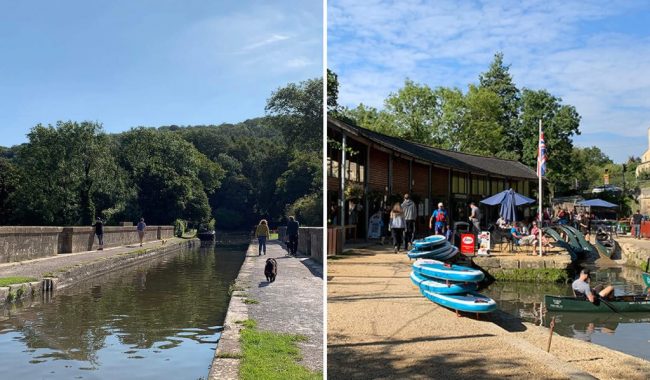 Dundas Aqueduct & The Angelfish Cafe
A beautiful summer walk along the Kennet & Avon Canal near Bath, which leads to the magnificent Dundas Aqueduct. At the start or end of your walk, near the car park, visit The Angelfish Cafe, which sits right next to the canal, with plenty of outdoor seating, which is simply delightful in spring and summer. They have water bowls and ice cream for dogs too!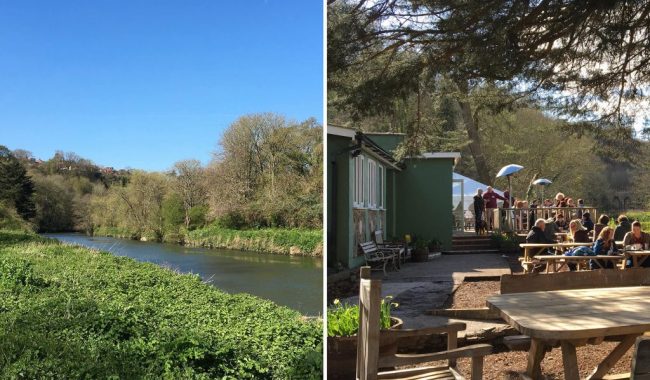 Eastwood Farm Nature Reserve & Beese's Riverside Bar & Garden
Eastwood Farm Nature Reserve is a hidden oasis, with open fields and wooded areas which lead to a stunning little walk along the River Avon, conveniently next to the picturesque Beese's Riverside Bar & Garden. This is a wonderful summer walk, where your pup can cool down in the river before drying off and walking to Beese's, where you can have a drink and food whilst looking across the peaceful and relaxing River Avon. Please note that Beese's only open during the Spring and Summer.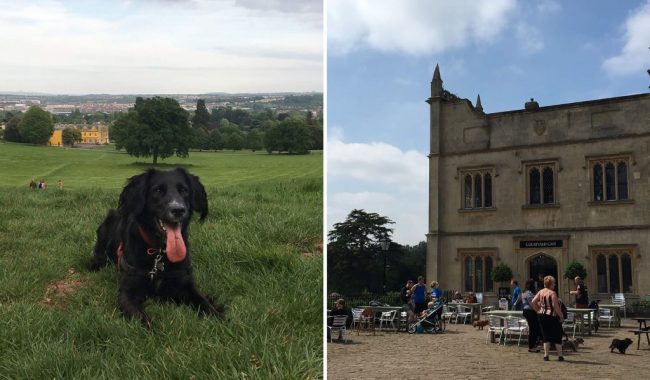 Ashton Court Estate & Ashton Court Cafe
Easily one of the most popular and most loved dogs walks in Bristol, Ashton Court Estate has over 850 acres of sweeping open green, pockets of woodland and pools to explore with your dog. It is dog heaven! Afterwards, retire to Ashton Court Cafe, housed in the old mansion, which has a lovely outdoor seating area, serves hot drinks, snacks and doggy ice cream.
Brean Down & Brean Cafe
Brean Down is a fantastic walk, with a great sweeping expanse of beach and natural rock pier which extends out into the Bristol Channel. You could easily spend a few hours here, exploring the beach before heading up the old fort on the furthest part of the peninsular. After grab a bite to eat and drink in Brean Cafe, which is incredibly dog friendly, where dogs are allowed inside, and they even serve a doggy breakfast!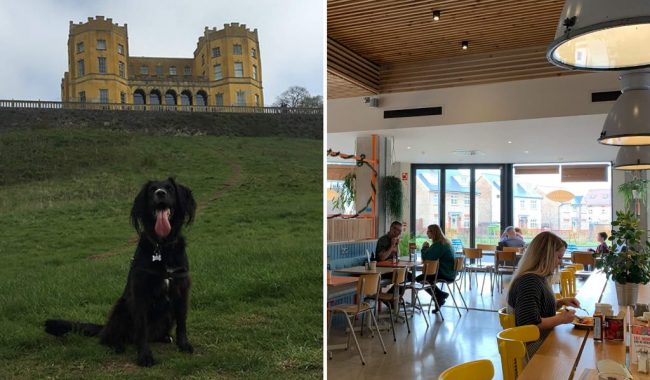 Stoke Park Estate & Boston Tea Party
One of our all-time favourite places to go for a dog walk and brunch. Filled with green spaces for dogs to run around, big puddles to splash in, bluebells woodlands, monuments and even a sculpture trail. Luckily for us dog walkers, Boston Tea Party is just around the corner from the park and serves one of the best brunch menus around. They are very dog friendly, and your pup definitely won't be the only one in there waiting for some crumbs!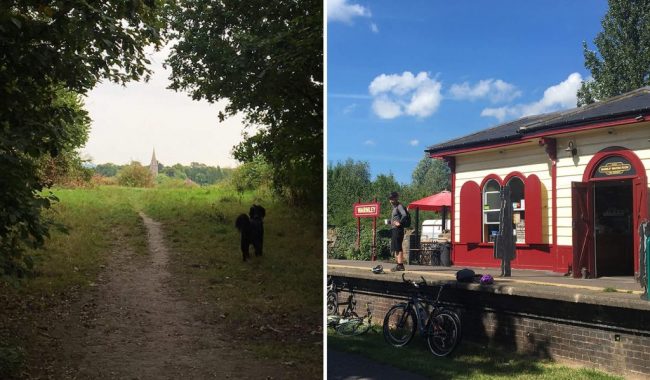 Warmley Forest Park & Warmley Waiting Room Cafe
A great dog walk with open fields, a big pool for a doggy paddle, a babbling brook to splash around in and woods to run through and sniff. It lies right next to the Bristol & Bath Railway Path, which is home the lovely Warmley Waiting Room, a converted waiting room still on its old station platform. There are only outside tables here, but in the summer, it's a lovely place to sit in the walled garden and have some ice cream.