Walks & Pubs
For us, nothing else beats a brilliant dog walk with an excellent pub at the end. Whether it's a warm summer's day, where you can sit outside in the garden and enjoy a refreshing drink after a long walk, or recuperate after a crisp, chilly winter walk, and discover a cosy, rustic pub with a log fire in the room crackling away.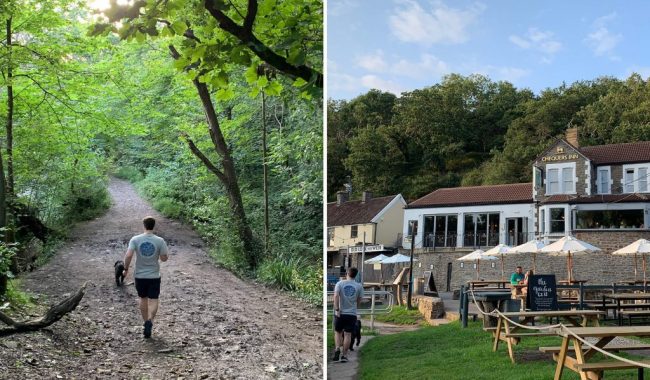 Avon Valley Woodlands & Chequers Inn
A brilliant walk that can be as long or short as you like, paired with a lovely riverside country pub. You can either explore Avon Valley Woodlands from either its own car park in Hanham, which is under a mile to pub, or from Conham River Park, 2.5 miles away from the pub. You simply follow the Avon River Trail, which will take you through the collection of woodlands that make up the Avon Valley Woodlands, and straight to the pub! The Chequers Inn is a wonderful pub, with a large garden that overlooks the river, they are dog friendly inside and out, and brought out dog bowls as soon as we arrived. It's perfect for a warm summer's day!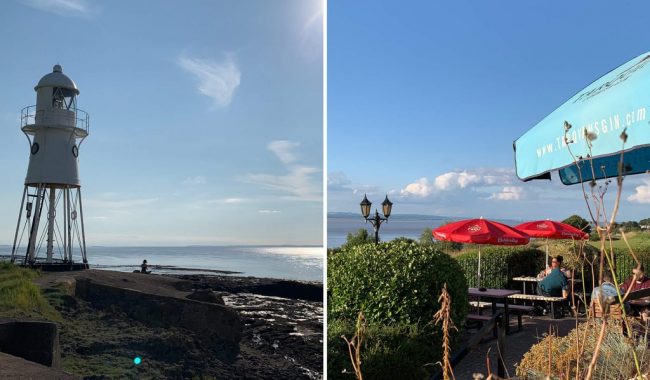 Portishead Lighthouses & The Windmill Inn
A lovely linear 3.5 mile coastal walk from Battery Point Lighthouse to Black Nore Lighthouse in Portishead. This coastal walk will take you along the Bristol Channel, with numerous little pebble beaches to stop at along the way, including Sugar Loaf Beach, which has a tidal pool (perfect for dogs who love swimming if you go at the right time!) On your way back, stop by The Windmill Inn, a large Fuller's pub, with a terraced outdoor garden, perfect for watching the sunset whilst having a well-earned drink and meal.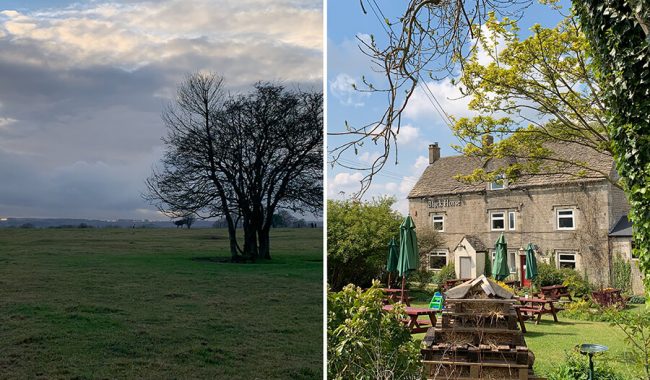 Minchinhampton Common & The Black Horse
Minchinhampton Common, next to Rodborough Common is one of the largest commons in Gloucestershire, with over 600 acres to explore. The walk is very flat with multiple places for parking and views from the Cotswold scarp top. There are cows at certain times of the year, but they are easy to avoid. After your exploration, visit The Black Horse, on the edge of the common, which has stunning views from the garden of the Cotswolds, making you feel like you've got the best seat in the house for relaxing, having a drink and tucking into some well deserved food.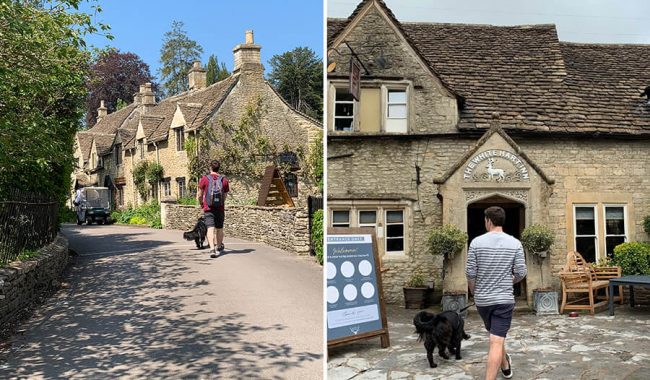 Castle Combe Circular & The White Hart
This combination is an absolute winner. We highly recommend visiting Castle Combe for the day with your dog, where you can start the day by following our 3.5 mile circular route through woodlands, golf courses and over streams, ending with the best and famous views of the historic village. After, slowly wander back up to the car and driving a short distance to The White Hart, located just down the road in Ford. The pub is quieter than the pubs in Castle Combe, and the garden is lovely, with a stream running under the pub. It's very picturesque and relaxing.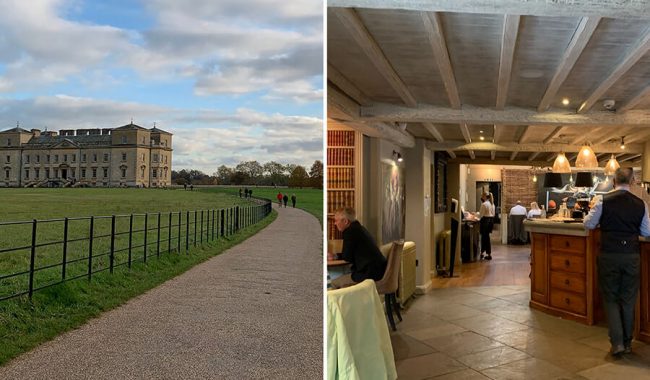 National Trust Croome & The Jockey Inn
A brilliant day out for you and your dog, the National Trust welcomes your four-legged friend into their beautiful grounds, created by the well known English landscape architect 'Capability' Brown. Spend a few hours walking around the fields, ponds and streams, before hopping in the car and driving a short way to The Jockey Inn, an award-winning, beautifully renovated country pub. Dogs are welcome inside and out and we can highly recommend the Sunday Roast!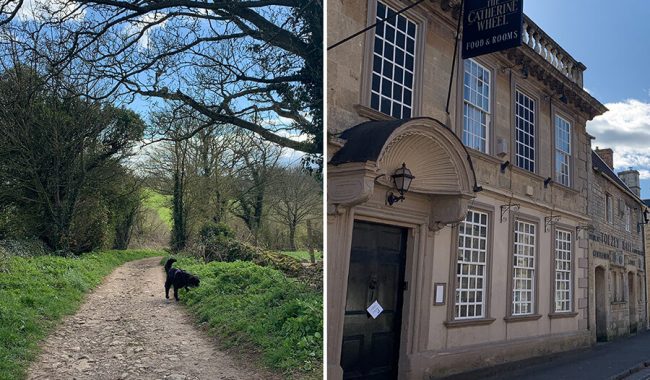 Marshfield Circular & The Catherine Wheel
A 4.5 mile walk around picturesque Marshfield, just outside of Bath. This route is mostly flat and mainly on gravel bridle paths, with trees lining each side. There aren't any stiles as well, making it an easy walk for all dogs. There are a few fields at the end with cows in. After, relax with a well deserved drink and meal at The Catherine Wheel, which is dog friendly inside and out.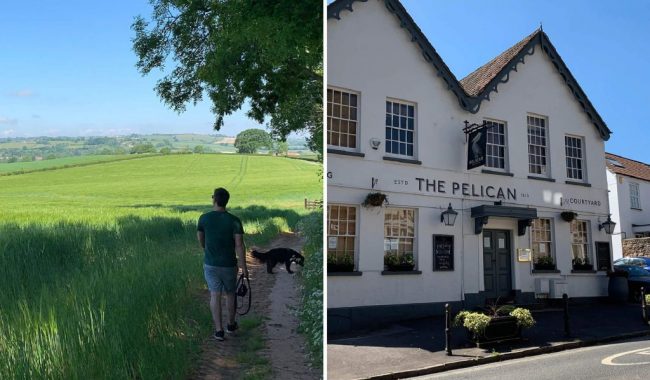 Chew Magna Circular & The Pelican
With this almost 5 mile countryside ramble, you will definitely build up your appetite to finish up at The Pelican pub for a well deserved meal and pint. The walk will take you through fields, along the River Chew, to Chew Magna Lake and back. The Pelican is dog friendly, has a decent selection of Butcombe beers on tap and great food. In summer, bask in the sun in the courtyard garden, lit with festoon lighting, or in the winter, cosy up inside near the crackling log fire.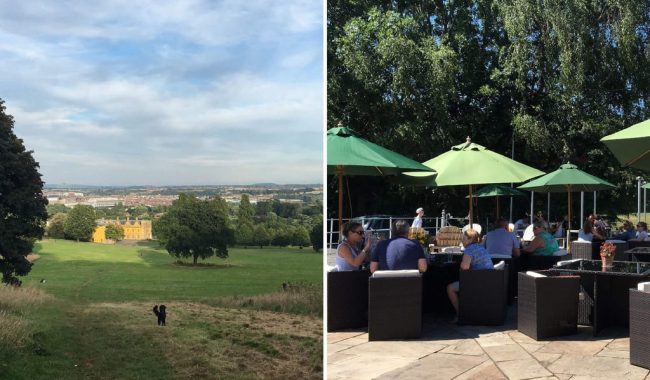 Ashton Court Estate & The Ashton
One of the best walks in Bristol, with over 850 acres of parkland including woodlands, sculptures, ponds, deer park and an old mansion with landscaped gardens. You could easily spend a few hours here, but we love walking about an hour circular loop before heading to The Ashton, which is on the edge of the parkland. We often go for lunch with friends and family as the bar space where dogs are allowed has quite a lot of room, and if we're lucky, we try to grab a table by the fire. The staff are very used to dogs, there are water bowls dotted around (if you don't see any, just ask), and Bella has even been given treats by the staff before.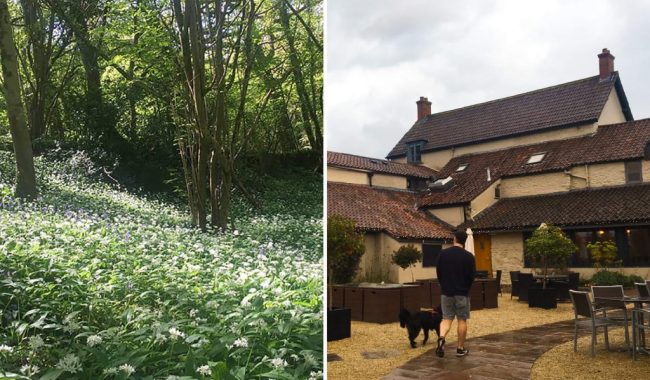 Bourton Combe & The George at Backwell
Bourton Combe is a little bit off the beaten track, with a wild woodland, rocky paths and densely packed trees. It's a very peaceful and definitely feels more like you're discovering a woodland instead of walking in a well-manicured one, which is part of its charm. A circular loop takes about an hour. Just a few minutes drive or a 15 minute walk away is The George at Backwell, an excellent and very dog friendly pub on Farleigh Road. The pub is cosy and rustic, with a wood burner in the bar area, and they serve mouth-watering food.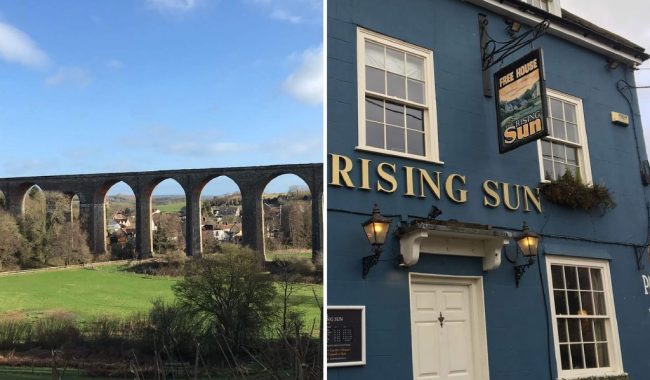 Pensford Viaduct & The Rising Sun
A perfect little circular loop through the countryside, along the River Chew, under the viaduct, before stopping off at dog friendly The Rising Sun. This walk is very picturesque and glorious when the sun is shining and has a little bit of everything. It takes about an hour to walk, where you will finish at the pub (how perfect is that?). The Rising Sun is a small, rustic pub loved by the locals and fellow walkers, serving a mean roast on Sundays that we would highly recommend!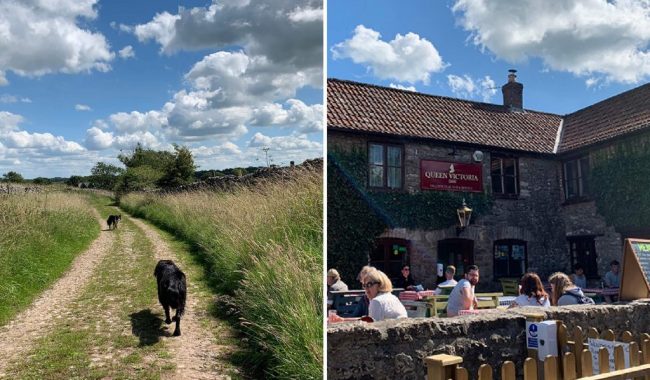 Priddy Circular & The Queen Victoria Inn
An enjoyable 4.5 mile circular walk across the beautiful Mendip countryside, finishing at dog friendly The Queen Victoria Inn. Starting out in Priddy Green, this walk will take you along small country lanes before walking along tracks and established footpaths. There are usually livestock along part of the route, so keep dogs on a lead where needed. Finish at the popular The Queen Victoria Inn, which has a great outdoor seating area, children's play area and serves an excellent selection of food and drink.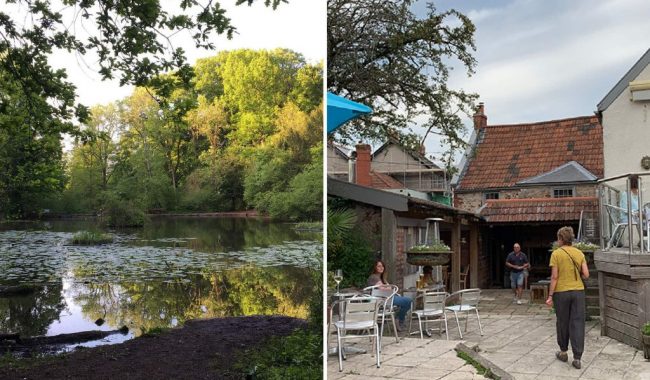 Abbots Pool & The George Inn
Abbots Pool is simply stunning, and a complete delight to walk around. This small woodland is centred around a beautiful pool, which provides a diverse habit for wildlife and is carefully looked after. Dogs (and people) are not allowed to swim in the pool, but for dogs there are a couple of streams to splash in if they love to play in water! This woodland won't take you long to walk around, but you could venture to West Tanpit Wood and back for a longer walk. After, stop off at The George Inn, a traditional but contemporary pub, championed by the locals, that has a wonderful little grass, stone walled garden, serving refreshing drinks and great food. Inside, dogs are allowed in the bar area.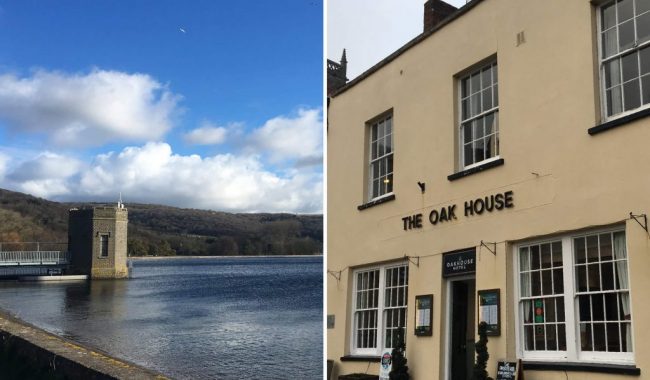 Cheddar Reservoir & The Oakhouse Hotel
Cheddar Reservoir is a lovely, flat, easy and accessible 2.2 mile walk around the entire reservoir. It borders not only Cheddar, but Axbridge as well, a small historic village. 10 minutes walk from the car park for the reservoir on Axe Lane, is The Oakhouse Hotel, a rustic yet contemporary pub, which also has dog friendly rooms. We love eating here, with a varied menu, cosy atmosphere and a good choice of drinks.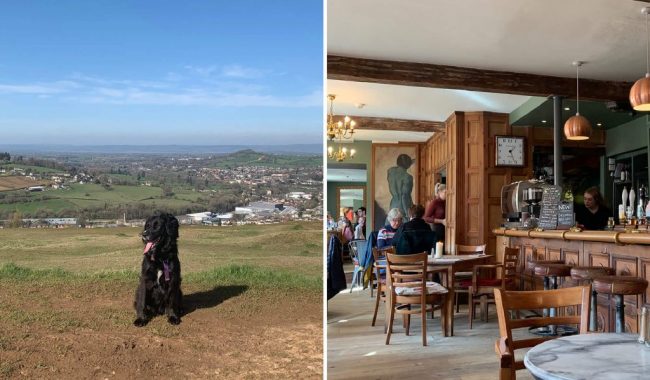 Rodborough Common & The Old Fleece
We absolutely love this walk, as for us and Bella it's a perfect walk as there's plenty of space to roam, fantastic views and very few squirrels, then after, we adore visiting the pub, as it's a perfect mix of traditional yet modern, with a superb menu and crackling fireplace. Rodborough Common is a large area, overlooking Gloucestershire and the Cotswolds, it also links onto Minchampinton Common, so you could walk here for a couple of hours if you wanted. Below Rodborough Common, at the bottom of the hill, is The Old Fleece, a wonderful pub that is very dog friendly. Often, every table will have a dog with them!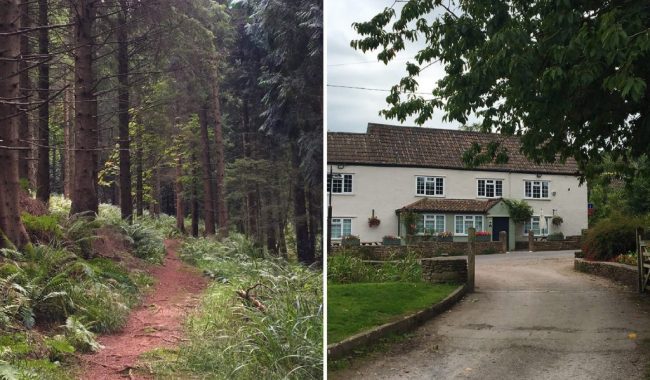 Rowberrow Warren & The Swan Inn
Our favourite 'go to' walk with friends or family with a pub at the end! Rowberrow Warren is a huge woodland that borders other walks such as Dolebury Warren and Black Down, so you can make your walk as long or short as you like. We usually walk around the woodland for about an hour, which has so many paths you can explore new routes every time you visit. There's also a little stream at the bottom with is great for dogs that love to splash around in the water. After, we retire to The Swan Inn, where the staff are always friendly and welcoming to dogs. They have recently opened up some lovely rooms to stay in which are also dog friendly. The Swan Inn is a Butcombe pub, so they have an excellent choice of ales.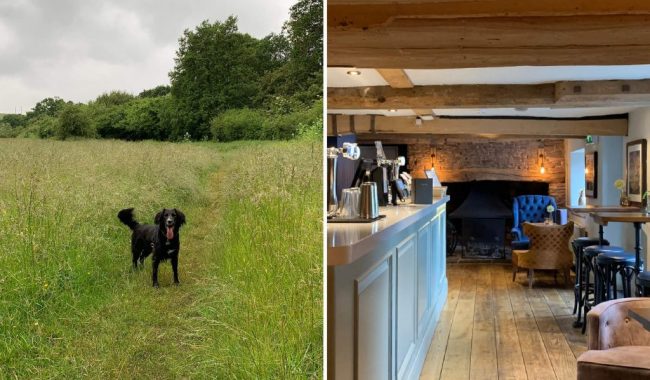 Frampton Cotterell to Winterbourne Down & The Golden Heart
A linear walk along part of the Frome Valley Walkway, starting in Frampton Cotterell and finishing in Winterbourne Down before heading to The Golden Heart pub on Down Road. This fantastic countryside walk is picturesque and easy to follow as you just need to follow the river! At the end of the walk, you will come across Huckford Quarry Nature Reserve, an old quarry which has been taken over by trees and wildlife, sitting under an impressive viaduct. It's an intriguing space to explore. After visiting the nature reserve, you can follow the path to the main road and walk 5 minutes along to The Golden Heart. A lovely, warm and inviting pub with a varied menu and lovely outside area. Dogs are only allowed in the bar area. After, walk back the way you came.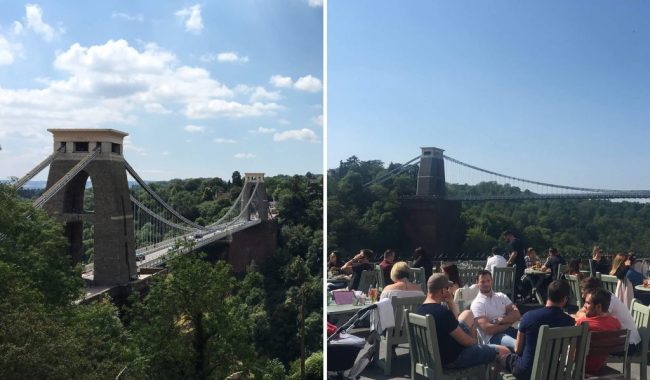 Clifton Down & The White Lion
Clifton Down and Durdham Down make up an enormous area that stretches from Clifton Village to Redland and Sneyd Park. One of the most spectacular places to walk here is in Clifton Down, where you can walk up Observatory Hill to see the stunning and famous views of Clifton Suspension Bridge and the Avon Gorge. Just a short walk away is Clifton Village, filled with dog friendly pubs, but for an excellent view of the bridge and gorge, visit The White Lion, which has a huge outdoor seating area. It is very popular in the summer, so you may have to wait for a table, but the views are worth it. The White Lion pub is part of the Avon Gorge Hotel, which has dog friendly rooms.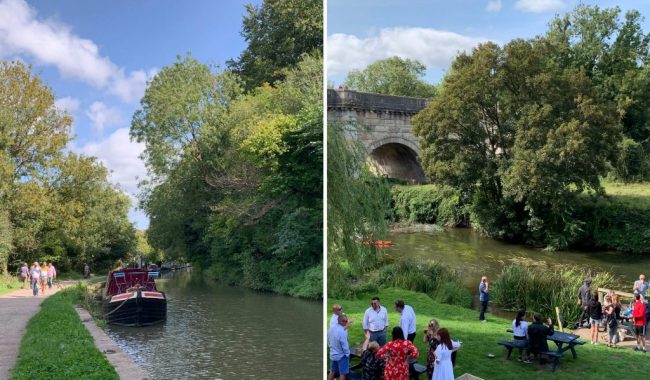 Barton Farm Country Park & Cross Guns
An absolutely brilliant dog walk and pub in the countryside. Barton Farm Country Park, in Bradford-on-Avon, is a beautiful stretch of land that is bordered by the River Avon and the Kennet and Avon Canal, with picturesque views. Dogs will love it here, running in and out of the river. The Cross Guns pub rests in the centre of an easy circular walk, making it the perfect pit-stop halfway around for some refreshments and food. The Cross Guns has one of the best pub gardens we've ever seen, with a terraced garden sloping down to the river and Avoncliff Viaduct rising above. The inside is dog friendly too, with a traditional yet contemporary interior. You will love coming back here time and time again!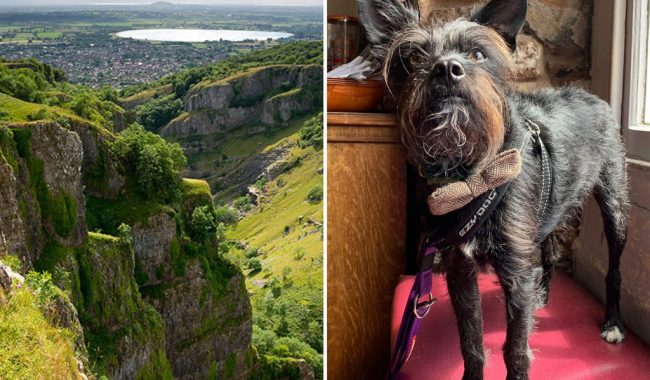 Cheddar Gorge Circular & The White Hart
A superb 4 mile walk around the famous Cheddar Gorge, one of the most spectacular sights in Somerset. Cheddar is very popular with tourists, so it's best to get there early. As there are cliff edges and goats on the southern cliff edge, we would recommend dogs to be on lead during part of this walk. After, relax at local pub The White Hart, a traditional and rustic country pub, which serves a great little menu, with something for everyone. They also have a large outside garden area.