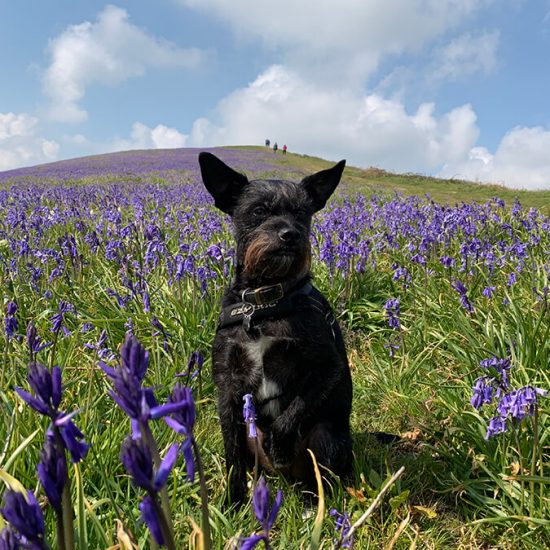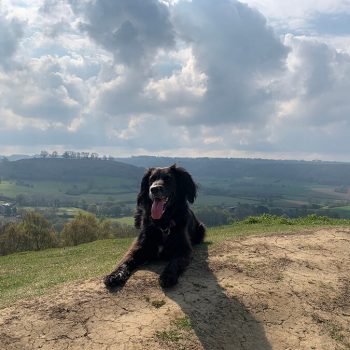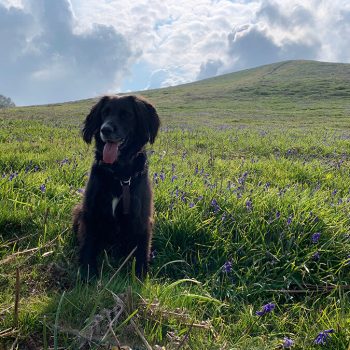 Cam Peak & Cam Long Down
Cam Peak and Cam Long Down is a wonderful walk with amazing views near Dursley. A particularly good time to go is May, where the peak and woodlands are carpeted with bluebells.
There is a free car park at Cam Long Down – GL11 5HH. From here, there are a variety of footpaths and bridle paths. A lovely walk around Cam Peak and Cam Long Down will take about 40 minutes.
There is a stunning 3.5 mile circular route up Cam Peak, along Cam Long Down, over to Uley Bury and back round. The views from Cam Peak are spectacular, providing excellent uninterrupted views of the local countryside and further afield too.
Livestock is rotated on some of this circular walk, so please look out for livestock before you enter fields and make sure dogs are on a lead if so. The farm between Cam Long Down and Uley Bury does ask that dogs are kept on a lead due to numerous dog attacks. During the summer months, cows graze Cam Peak and horses or cattle may be on Uley Bury. When we visited in early May, we only came across one sheep field near the farm and did not encounter any other livestock.
Walking directions
1. Park in the small car park at Cam Peak. Walk up the peak to admire the stunning views of the Cotswolds.
2. Walk down the slope towards the wooded area where the path joins the Cotswold Way which will take you uphill to Cam Long Down.
3. Keep on the Cotswold Way at Cam Long Down, which will take you back down the hill into a slightly wooded area, finishing with a dog friendly stile with fields beyond.
4. When we visited in May, there were sheep and lambs in this field, so please keep dogs on a lead if livestock is there. Keep to the path and walk through this field towards another dog friendly stile and crop field.
5. At the end of this field, go over another dog friendly stile where you will come to a small, quiet country lane. Carry on walking in the same direction, towards Uley Bury hill and Hodgecombe Farm.
6. At the bend in this lane, turn off left into Hodgecombe Farm. There are multiple signs here about dogs attacking sheep in the past so please keep dogs on a lead when walking through the farm as there are a lot of animals behind fences.
7. Follow the track past the farm building and you will come to another steep hill with a rocky footpath. Follow this footpath until you reach the top with a bench.
8. Once at the top, exit the area by the gate which leads to a small car park and the road. Once out of the gate, turn right onto a wide track that leads to Uley Bury. Enter Uley Bury through the gate on your left. Continue to walk around.
9. Once you have walked halfway around, you will see a very obvious track that will take you downhill, walk down the hill, taking the right-hand path and then right again so you are walking down a muddy track surrounded by trees. Once you reach the bottom of this track you will find a road, with a signpost and Hydegate Pet Resort on the corner.
10. Follow the signpost towards Cam, walking on the quiet lane past Hydegate Pet Resort. On the right, you will soon see a public footpath sign and a track. Walk along this footpath until you come to a gravel farm track, where you turn right and follow the track up towards more fields.
11. Stay on this marked public footpath until you reach Cam Peak again.
View this post on Instagram
The history
'Uley Bury is the long, flat-topped hill just outside and above the village. It is an impressive multi-vallate, Iron Age hill fort dating from around 300 B.C. Standing some 750 feet (235 metres) above sea level it commands spectacular views from the Cotswold escarpment over the Severn Vale. The Iron Age (characterised by the work of smiths who developed implements and weapons by hammering them into shape, rather than, as in the Bronze Age, casting them) is the third principal period of the three-age system created for classifying ancient societies and prehistoric stages of progress (the preceding ones being the Stone Age and the Bronze Age). It used to be thought that the Iron Age in Britain came about through invasion but it is now thought that the changes were effected more gradually through trade.'
Address
Cam Peak
Cam
Dursley
GL11 5HH
Parking
Cam Peak car park - GL11 5HH
Paws for thought
Sheep and horses in fields. Cattle on the peak in summer months.
Pawfect partner
Leave a comment...
As this is a community website, please keep your comments helpful and positive, thanks!