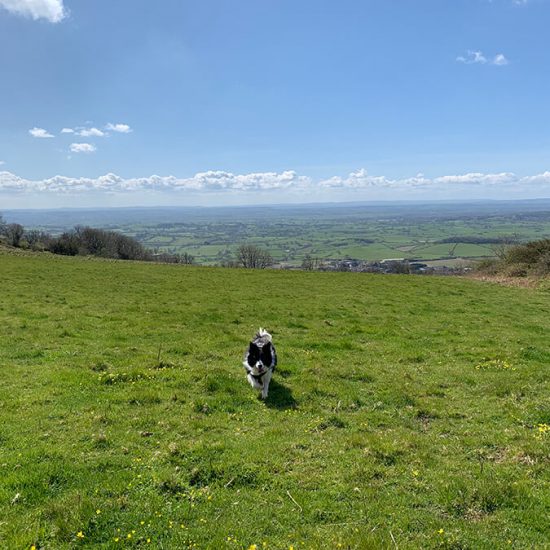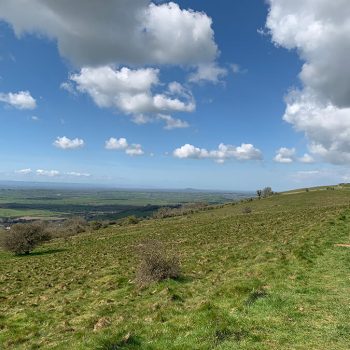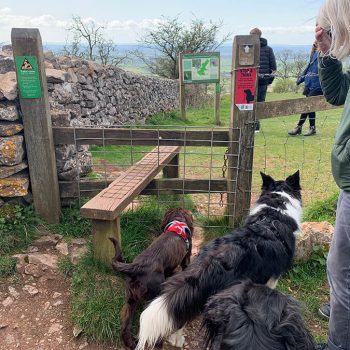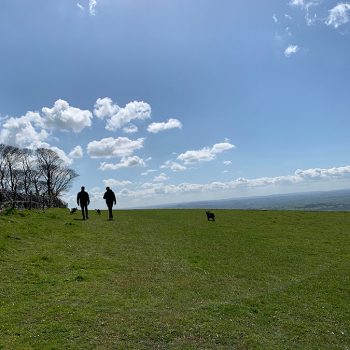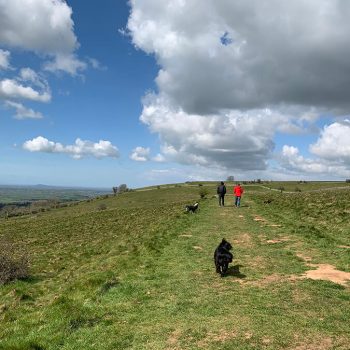 Deer Leap
With beautiful and unrivalled views across the Somerset Levels, this walk is popular amongst dog walkers, even making up for the fact that frequent livestock in some fields means that dogs may have to be kept on a lead and lifted over awkward stone stiles.
The walk begins at the small Deer Leap car park (we would recommend getting there early at weekends), where the gate will take you directly onto the footpath with sweeping views across Somerset, which is glorious on a sunny day. There are a few public footpaths to choose from and you can easily cater your walk to make it as long or short as you like. As we were with family, we decided on an easy walk with a pub stop!
You can opt to walk down the hill into the nature reserves from the first field, or you can walk up the sloping hillside (this seems to be the most popular). If you choose to go up the hill, the public footpath will lead you across numerous fields until you reach the West Mendip Way or Coxton End Lane in Priddy. Luckily, Priddy has a brilliant dog friendly pub – The Queen Vic. The pub is a favourite stop of ours when doing any walk in the area as dogs are allowed inside and out, they have a sunny pub garden and serve a good choice of food and beer.
After lunch, we headed back in the same direction, luckily across empty fields, as there was no livestock at all when we visited in April, meaning all the dogs could run free and have fun playing.
Want a longer walk? This walk is very easy to make into a circular or longer route, as the West Mendip Way can either take you to Draycott Sleights or towards the stunning Ebbor Gorge Nature Reserve.
Address
Deer Leap
Wells
BA5 3AY
Parking
Free small car park at viewpoint and start of the walk
Paws for thought
Livestock are often in the fields, if so, please keep dogs on lead or under close control. When we visited in April, luckily the fields were empty. The stone stiles are very un-dog friendly and dogs may have to lifted up to reach the next field.
Pawfect partner
Leave a comment...
As this is a community website, please keep your comments helpful and positive, thanks!