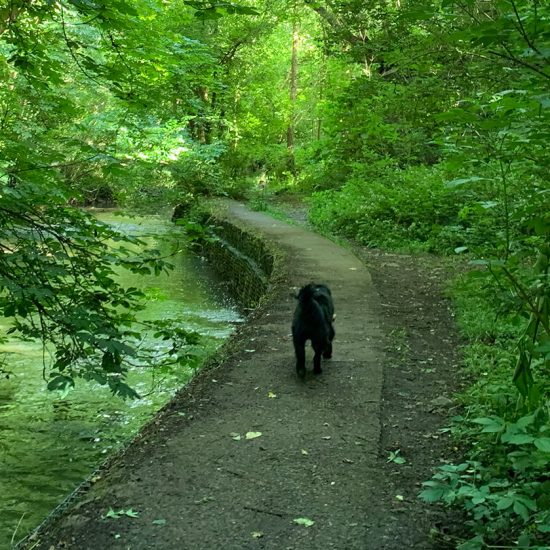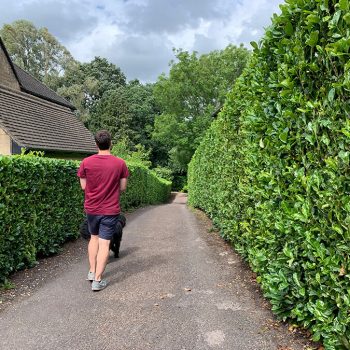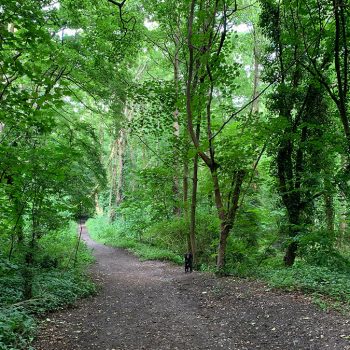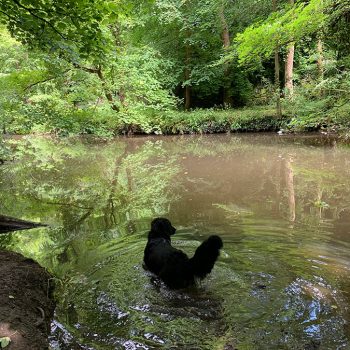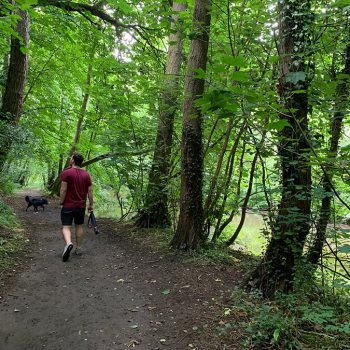 Frenchay to Bury Hill Fort
A lovely river stroll from Frenchay to Bury Hill Fort, along the Frome Valley Walkway with lots of opportunities for dogs to swim or splash around in the river.
The Frome Valley Walkway is one of our favourite places to walk Bella at the moment, and this part of the walkway is really interesting with a mix of lush sheltered woodland, walking under tall industrial bridges, past old cottages and to an old fort. It is a little piece of untouched wilderness lying just under the busy roads of Bristol.
This linear walk was just over 3 miles, but you can very easily extend it by continuing along the River Frome to Huckford Quarry Nature Reserve, Frampton Cotterell and beyond!
Walking directions
1. Start in Frenchay. A good place to park is at Frenchay Common or Frenchay Moor as there is easy parking, but this walk starts from a path that goes just off Grange Park (BS16 2SZ).
2. The footpath on Grange Park is signposted the Frome Valley Walkway, follow the path into a small woodland, before reaching the River Frome. The walk is pretty easy to follow from here as there are frequent signposts, but you basically just need to follow the river!
3. If you wanted to detour slightly to see the picturesque 17th Century Pack Bridge, you need to turn left after the tiny footbridge (after passing under the A4174 bridge), following the small stream. On each side of this bridge are empty fields to explore (there were no animals when we visited in June, but please double check). After a wander, return back to the Frome Valley Walkway.
4. Continue along the River Frome until you pass under the M4 bridge and walk through the gate next to the house. There is a small cluster of houses here, but stay on the lane and you will quickly see a sign for Frome Valley Walkway on your right. If you want to stop for a rest, The White Horse is an excellent dog friendly pub and only a couple of minutes walk up the lane from this point.
5. The signposts will take you through some gates to a small wilderness area and little track. Follow the track to the end, go through the gate and turn right onto a small, quiet road with a bridge across the river with beautiful little cottages. Follow the road around to the left, following the signposts again and head slightly uphill (running alongside the River Frome). This road is very quiet, but please keep dogs on lead whilst road walking.
6. After a few minutes, take the first road left towards Winterborne, following the River Frome again. Carry on walking along the road for a few minutes, past the road that is signposted Bury Hill. Shortly after you will see a public footpath signposted to your right which takes you up some steep steps, and once at the top, you will see a large stone stile. This one is tricky for dogs to get over, so we got Bella to crawl under the fence instead.
7. Bury Hill Fort is essentially an open green grassy space (it would be great to have some signs of the history). We think that livestock/horses are kept here during certain parts of the year, but there were none when we visited in June. Walk across the field to another stone stile (another tricky ones for dogs). Follow the public footpath right down the lane. At the end of the lane, turn right and walk back down the road towards the small cluster of cottages and mills next to the River Frome you walked past a little while ago.
7. Follow the path back the way you came! Stop at dog friendly The White Horse pub for some delicious food and drink if you need a little rest.
View this post on Instagram
Address
Frenchay
Winterbourne
BS16 2SZ
Parking
Start in Frenchay. A good place to park is at Frenchay Common or Frenchay Moor as there is easy parking, but this walk starts from a path that goes just off Grange Park (BS16 2SZ).
Paws for thought
Some awkward stone stiles at Bury Hill
Pawfect partner
Leave a comment...
As this is a community website, please keep your comments helpful and positive, thanks!