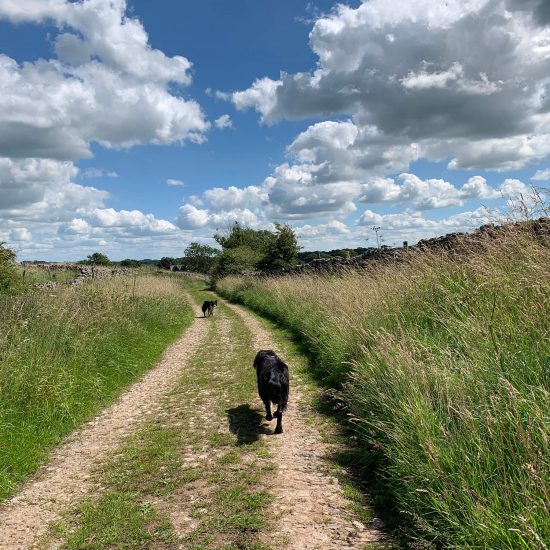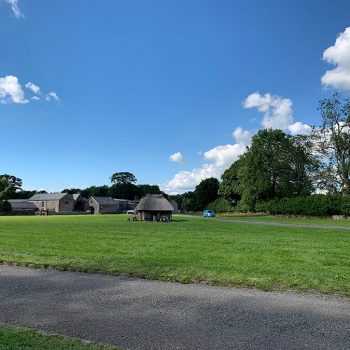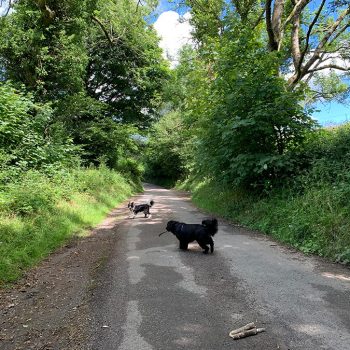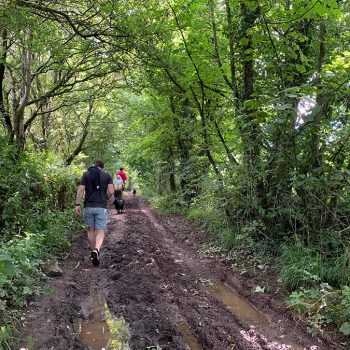 Priddy Circular
Priddy is a great area for a walk, with a number of public footpaths, so you could easily vary your route each time you visit. This 4.5 mile circular walk will take you along quiet roads, before walking through picturesque green lanes with amazing views of the countryside, before joining the West Mendip Way, and finally finishing with a brilliant dog friendly pub, The Queen Victoria Inn.
There are animals on route, so please check the fields before walking through and keep dogs under control.
Walking directions
1. Start at The Green, a triangular grassy space. You will need to exit the green by walking along the road at the most northern point, next to the farm buildings. Follow this road for a quarter of a mile until you get a junction with an old signpost in the middle. Turn right onto Nine Barrows Lane. This road is quiet, so we let our dogs Bella and Indy off lead here, but we're very cautious about cars coming down the road, so please use your own judgment.
2. Walk for 1/2 mile down Nine Barrows Lane, until you see a path going through the trees on your right. Walk through the trees and follow the path on your right, which is the East Water Drove Track. This is sometimes quite muddy, even in summer. The footpath is sheltered on either side so dogs are ok to be let off the lead.
3. Follow the path until it turns into a small road, where there is a house on your right. You will need to take a shortcut across the field on your left, so take the footpath across the old stone wall when you see the signpost. These stone stiles aren't very dog friendly, so dogs will either need to be lifted or jump over if confident. Alternatively, you can follow the road and turn left onto Wells Road, but the road is quite busy.
4. If walking across the field, please be aware that cows are sometimes in there, so please keep dogs under control. Follow the footpath close to the stone wall to cut out some road walking. Hop over another stone stile into the next field and keep on the footpath heading towards Wells Road.
5. Wells Road is very busy, so put dogs on a lead when near, exit the field, walk a few paces left and cross the road to Monarch's Way footpath. For the first few fields, there are usually sheep, so please keep dogs on lead. After 4 fields, you will reach a track (Dursdon Drove), turn right follow the track which turns into the West Mendip Way.
6. Keep on the West Mendip Way, which will take a couple of right turns. After a while, you will reach the road, Pelting Drove, so put dogs on lead and exit right. This road is quite quiet and you will walk right past a brilliant dog friendly pub, The Queen Victoria Inn. It has a great outside area and fantastic kids play fort.
View this post on Instagram
Address
The Green
Priddy
Wells
BA5 3BB
Parking
Park at The Green
Paws for thought
Sheep and cows in some fields. Some on road walking. Some un-dog friendly stiles, so dogs may need lifting over.
Pawfect partner
Leave a comment...
As this is a community website, please keep your comments helpful and positive, thanks!