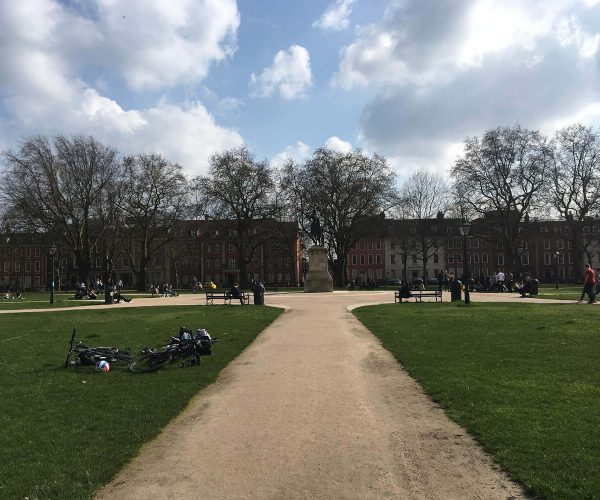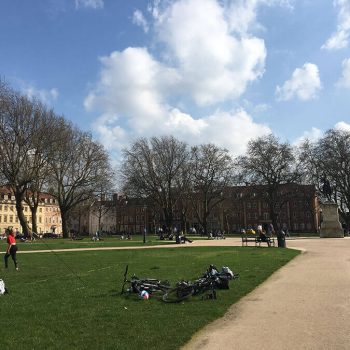 Queen Square
Queen Square is a popular retreat for nearby workers and visitors to the city who are looking to relax. Even though the park is in the city centre, the traffic has been taken away from the area, so it feels peaceful and quiet. The park is very pretty, flat space, which your dog will love for a little lunchtime chill.
View this post on Instagram
The history
'The marsh upon which Queen Square was built was just outside the old city walls and had, up to the beginning of the 17th century, been used as the city's rubbish dump and for weaponry practice. In 1622, it was remodelled as a tree lined promenade and a place to play bowls. Some houses were built on King Street and Prince Street during the last half of the 17th century.
The first house was built on the south side of the square in 1699 and in 1700, the square attained it's own identity, and was being laid out in its present form, being named after Queen Anne in 1702. Rysbrack's splendid statue of William III was erected in 1736. The diagonal walks appear to have been completed by 1750 but were altered in 1776 with a reduction in the number of trees which apparently had made the square too shady for the residents.
Almost since it was completed, Queen Square has been at the forefront of Bristol's turbulent history. When the city was swept by violent riots on 30 October 1831 (sparked when the House of Lords blocked a popular electoral Reform Bill), nearly 100 of the buildings in and around the square, including the mayoral Mansion House, Bishops Palace and Custom House, were burned to the ground and their cellars looted.
Much drunkenness ensued, hundreds of protesters died in the riots, almost 90 were sent to prison and four were hanged. The nation was scandalised. Rebuilding took place over the next 80 years, following the basic proportions of the square, and the mix of commercial and residential uses developed from then on.
The construction of a dual carriageway and major bus route through the square in 1936 led to a steady decline in the quality of the local environment until 1999 when the City Council, supported by English Heritage and the Queen Square Residents Association, made a successful grant application to the Heritage Lottery Fund to restore the square as part of the fund's Urban Parks Programme.'
Address
Queen Square
Bristol
BS1 4LH
Parking
Paid car parking around Queen's square, or park in one of the city centre car parks
Paws for thought
Small and is usually busy when the sun is shining
Pawfect partner
Leave a comment...
As this is a community website, please keep your comments helpful and positive, thanks!