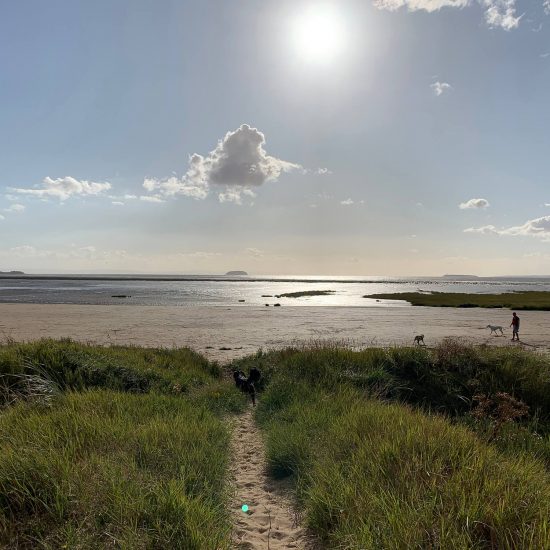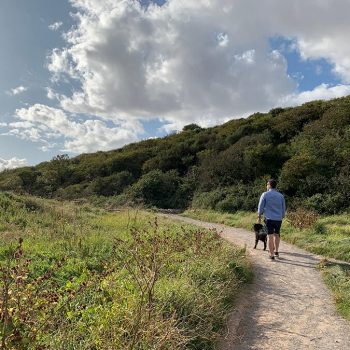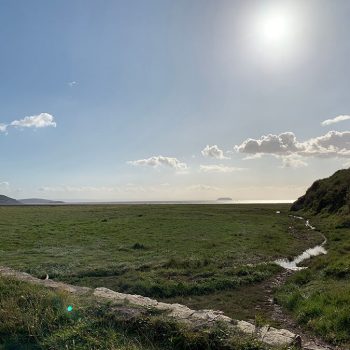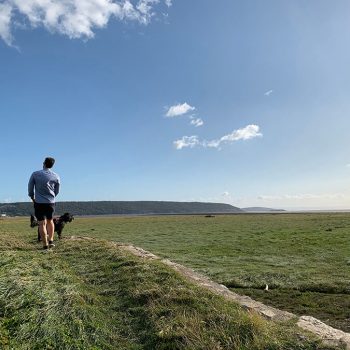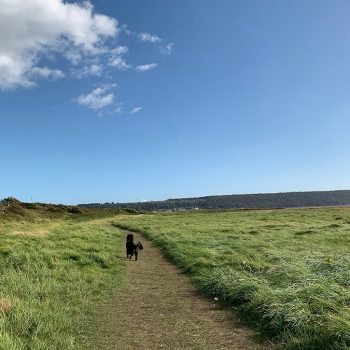 Sand Bay Beach
Sand Bay Beach is a very large bay in the estuary, overlooking the Bristol Channel. It's a peaceful spot and dog friendly all year round! It's also very close to Sand Point which has stunning views across the water to Wales, and is well worth the walk.
It's an excellent place to get away from the hustle and bustle, where the only thing you can hear is the sea and wind. It's also so large that it's never overcrowded, making it a good alternative to Weston-super-Mare Beach or Uphill Beach.
We went with Bella on a beautiful sunny summer evening, parking at the National Trust car park, which is free for members, before walking along the path to the beach. The path to the beach is lovely, although a bit muddy! You also get to walk by old relics of the past – pillboxes sinking gradually into the sand. We wouldn't advise walking down Beach Road to get to the beach if you can help it as it's too narrow to walk safely when a car passes.
Once on the beach, you realise what a large open expanse Sand Bay Beach is! The tide was out when we visited, so we had to be mindful of sinking sand, but it's very easy to avoid if you stay at the top part of the beach.
After a walk on the beach, you can pop to dog friendly pub The Commodore at the end of the beach. Or for a real treat, on a nice day you can pop by Sand Bay Tea Rooms on Beach Road, which despite dogs only being allowed outside is SUPER dog friendly, offering free treats and water as well as an amazing dog cream tea! For hot days, your pup can cool down with some Marshfield Farm Scoop's Dog Ice cream.
There are no facilities at the beach, but there are toilets in car park that charge 20p.
WARNING: The only thing to be careful of here is sinking sand. If worried about the sinking sand, avoid any dark areas of sand and stay on the back part of the beach.
View this post on Instagram
Address
Beach Road
Kewstoke
Weston-super-Mare
BS22 9UD
Parking
We parked in the National Trust car park (BS22 9UD) at the end of Beach Road as it's free for members. Or park in one of the car parks which are Pay & Display - Sand Bay Bus Terminus Car Park (BS22 9UH), Beach Road Car Park (BS22 9UU) or Sand Bay Commodore Car Park (BS22 9UZ)
Paws for thought
Sinking sand on the beach, so please be careful
Pawfect partner
Leave a comment...
As this is a community website, please keep your comments helpful and positive, thanks!