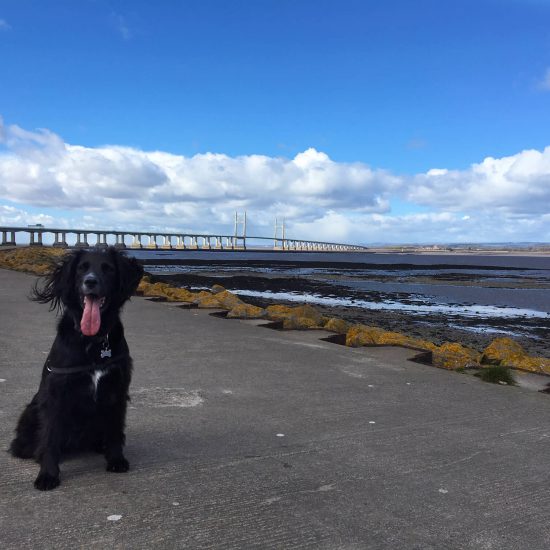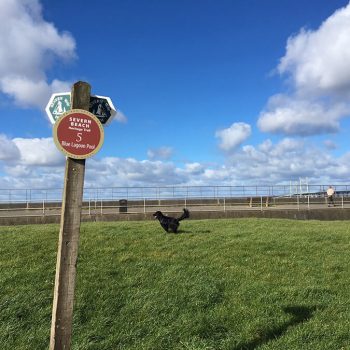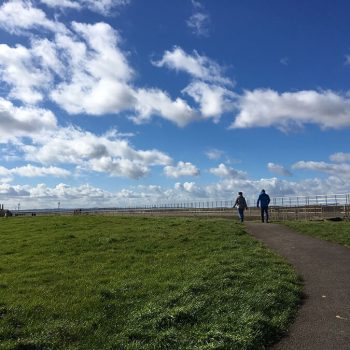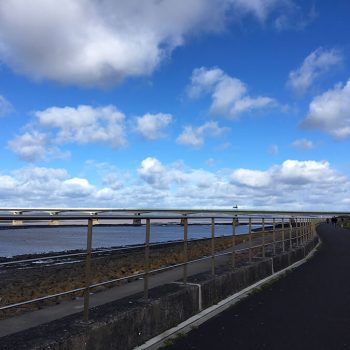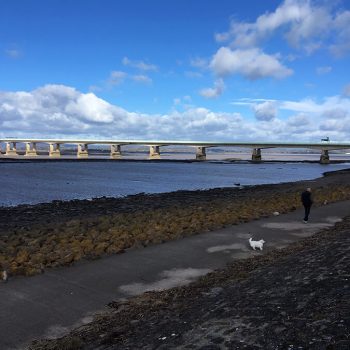 Severn Beach
Severn Beach is a paved promenade walk with a small shingly beach area along the River Severn. There are a few different heritage trails to discover. If you head north, you will go right under the Second Severn Crossing and back again (it's strange to be underneath instead of traveling on top!) Or if you walk south, you can walk on the beach area, which is magical at sunset when the tide is in!
Station Road (BS35 4PL) is a good place to start your walk, but parking is easy on any of the roads near Severn Beach. There are grassy areas for your dog to stretch their legs and have a good run around before walking onto the wide concrete paved promenade.
If you walk north towards the M4 Bridge: The walk is easy, flat and traffic-free, so perfect for pushchairs, wheelchairs or kids on bikes. Follow the path towards the Second Severn Crossing, passing underneath the impressive engineering feat of the old bridge until you reach New Passage – an area where the ferry used to cross the river over to Wales. It is fascinating to be under the bridge instead of on top of it for a change! You can extend your walk further by walking on to Pilning Wetlands – a protected saltmarsh where 1000's of birds visit every year on their annual migration routes (please keep dogs under control when walking here).
The walk is approximately 2 miles – a linear 1 mile walk to New Passage before walking back.
If you walk south onto the beach: Walk down onto the beach from the promenade. The shingly beach and grasses are a picturesque landscape. We went here late one summer evening to walk Bella after spending a day in Wales and watching the sunset over the River Serven and bridge was beautiful. In winter, it can be so muddy though! So make sure you take some wellies and maybe even a few towels!
After your walk, Shirey's Cafe is close by and is very dog friendly!
View this post on Instagram
The history
'Severn Beach is a small town which blossomed in the 1920's as a popular destination for day-trippers from Bristol. It was a lively seaside resort with its own funfair and open-air swimming pool. Most visitors arrived by train from Bristol, travelling on the line that runs alongside the River Avon through the beautiful Avon Gorge to Avonmouth and on to Severn Beach. Although the population of Severn Beach has steadily increased, tourism has declined since the 1970's as the increase in car ownership means that tourists travel further afield for their day trips. Today Severn Beach is more of a commuter town, with a seaside atmosphere and impressive views of both Severn bridges and the South Wales coast.'
– South Gloucestershire Council 
For more information on trails or the history, please check out A Forgotten Landscape – a large-scale natural and cultural heritage project, funded by the Heritage Lottery Fund Landscape Partnership Scheme, which ran from March 2015 to October 2018.
Additional information
Address
Station Road
Severn Beach
Bristol
BS35 4PL
Parking
Station Road (BS35 4PL) is a good place to start your walk
Paws for thought
Do not let dogs go into the River Severn - the currents are strong and dangerous
Pawfect partner
Leave a comment...
As this is a community website, please keep your comments helpful and positive, thanks!