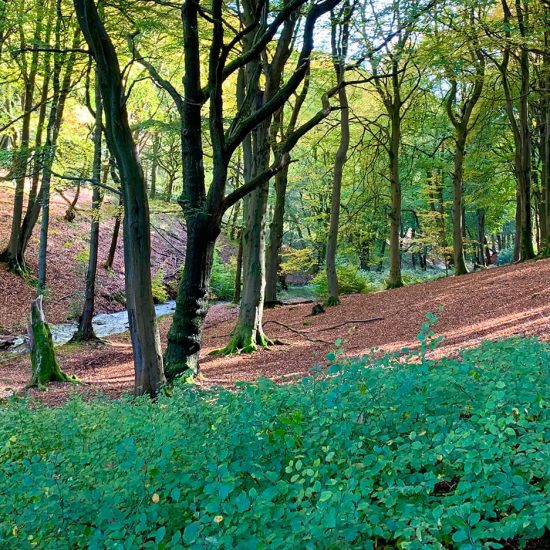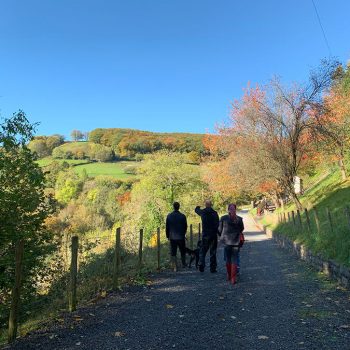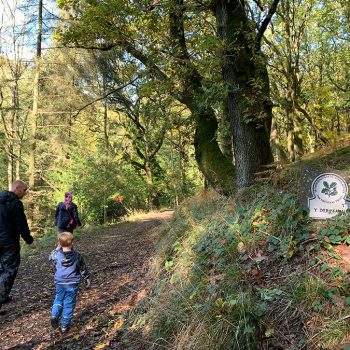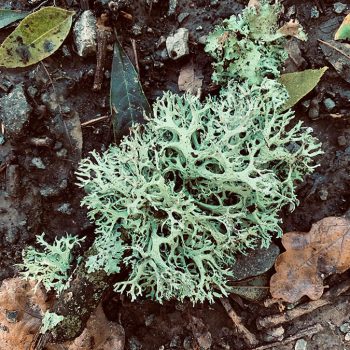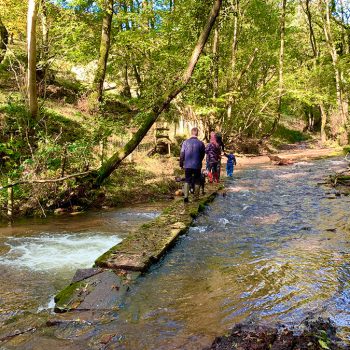 St Mary's Vale
St Mary's Vale at the foot of the Sugar Loaf in Wales is a beautiful hidden gem. You really do feel like you're walking in a magical fairy tale.
We've included this walk as it's only about an hour away from Bristol and it's stunning, especially when we visited in autumn.
After parking, take the path on the left that goes past a house on the right with amazing views of Abergavenny on your left. Within a few minutes, you will walk through a gate into the woodland.  We saw quite a few families with dogs and small kids in wellies, so it's obviously a loved family walk!
At the base of the valley is the Nant stream, with large towering trees forming a dense autumn canopy overhead and a carpet of leaves on the floor. It's so picturesque and peaceful. The stream was quite deep that day as there had been so much rain, so you will definitely need wellies! We walked up the stream, taking our time, before veering off to the left, past some houses until we found a specular view of Abergavveny and Wales. Going back on ourselves, we walked up the other side of the valley for a while and saw free roaming sheep, baa-ing comically loudly at us.
Our walk lasted about an hour as we had our friend's little ones with us, but you could explore this area for hours, even extending it to walk up to the top of The Sugar Loaf.
After, drop into the Sugarloaf Vineyards cafe on the way back down for some excellent coffee and cake or a cheeky glass of wine. They are dog friendly outside, have amazing views and it's a great place to relax after. Check the opening times before your visit.
If you want a longer circular walk, our friends explored further and found a great 4.6 mile route that takes you through St Mary's Vale, up to The Sugar Loaf and back down through the valley. It's a brilliant walk, with a magical woodland, stunning views and wild ponies on route.
Thanks to Rebecca and Alfie for this recommendation!
View this post on Instagram
Additional information
Address
Not exact address, but near:
Abergavenny
NP7 7HU
Parking
No exact address for the car park as it's on an unnamed road. The nearest postcode is NP7 7HU.
Directions: Drive north up the Chapel Road (NP7 7DS) until it turns into Pentre Road, drive up the steep country hill lane. The lane is very narrow and only enough space for one car, drive for a few minutes under the dense tree canopy. When the trees end, take the first left between a house and a farm and continue. Just before the road splits at a small junction there is a small car park surrounded by conifers on the left. The car park only has 6 spaces, but some cars were parked on the side road verges.
Paws for thought
Sheep free roaming in the valley and in colder, wetter months you will need wellies
Leave a comment...
As this is a community website, please keep your comments helpful and positive, thanks!