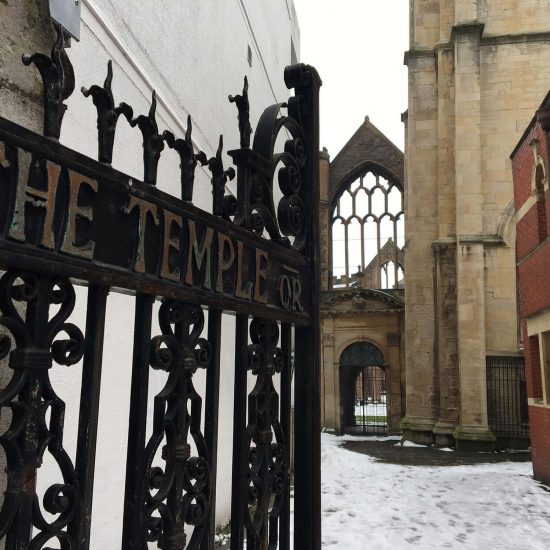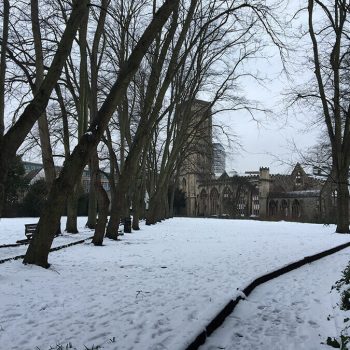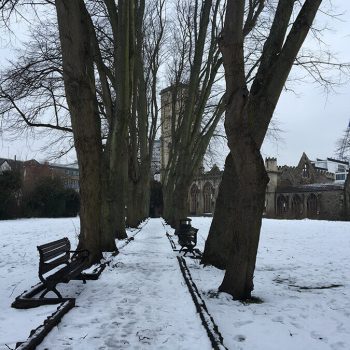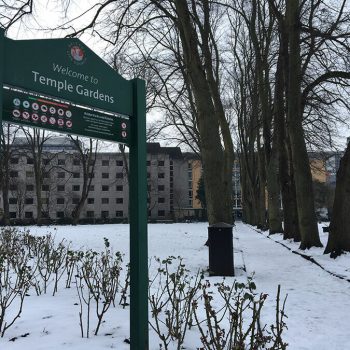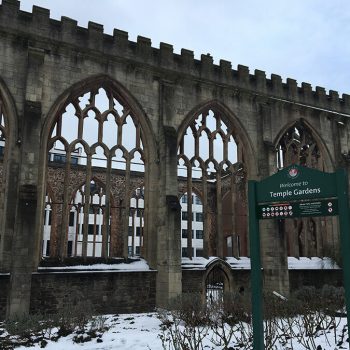 Temple Gardens
Temple Gardens is set in the city centre and is perfect for a quick lunchtime walk if you are lucky enough to take your dog to work with you!
The setting is one of the best aspects of this walk – the ruins of Temple Church stand proud (and a bit wonky) in the garden. This large late medieval church in Bristol survived bombing during the Second World War and has been preserved, sometimes opening as an art venue.
There are benches dotted around the garden or you could take a picnic and chill here with your pooch at lunch.
View this post on Instagram
The History
'Bristol's Temple Church is so called because the original church was built by the Knights Templar, perhaps the most famous of the medieval military orders.
Founded in the early 12th century to protect pilgrims in the Holy Land, the Templars were 'warrior monks', obeying religious vows of chastity and poverty whilst trained for war.
Robert, Earl of Gloucester, donated the site of the church to the Templars in the mid-12th century. The original building was round, deliberately recalling the Church of the Holy Sepulchre that stands in Jerusalem.
It was one of the largest of only a dozen such churches in England and it appears that the Bristol Temple became the administrative centre for the order in the south-west. By 1307, however, the order had fallen into disrepute and their lands were later confiscated and handed to the Knights Hospitaller.
The church was bombed during the Second World War and gutted by the resulting fire. This enabled the site to be excavated and the plan of the former Templar church was revealed. Among the treasures rescued from the debris was a unique medieval chandelier, now in Bristol Cathedral. Only the shell of the building, dating mainly from the 14th century, remained after the bombing in 1940. The Hospitallers replaced the older nave with a more spacious rectangular one with side aisles. To the west of the nave the Georgian doorway still survives, although the arcades had to be removed as they were unsafe.
The church has a famous tower, which leans 5 feet (1.6 metres) out of the vertical. It was begun in the 1390s, when the lower three stages were constructed.
Work was halted when the tower began to lean but was optimistically resumed in about 1460 when the tall top stage was added with a deliberate correction of the leaning angle (ie the masons tried to build a true vertical stage on top of the leaning base).
The top stage is not now vertical, probably due to the fact that the base has continued to increase its lean.'
Address
1 Church Ln
Bristol
BS1 6FR
Parking
On street paid parking
Paws for thought
Very small park, great for a lunchtime walk if you bring your pup to work!
Pawfect partner
Leave a comment...
As this is a community website, please keep your comments helpful and positive, thanks!