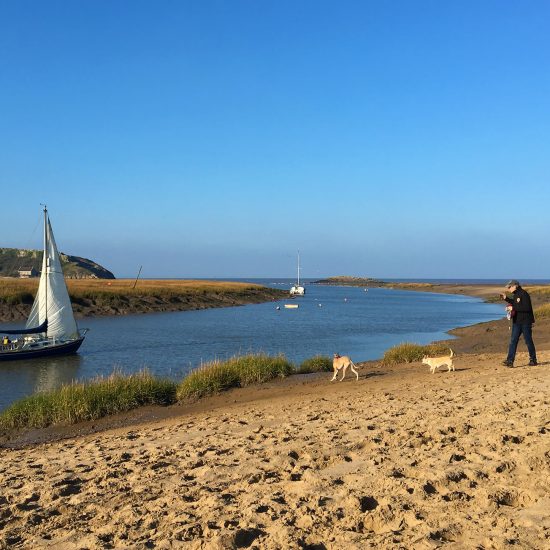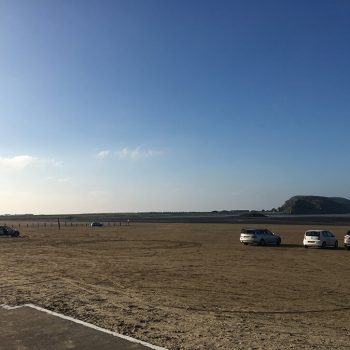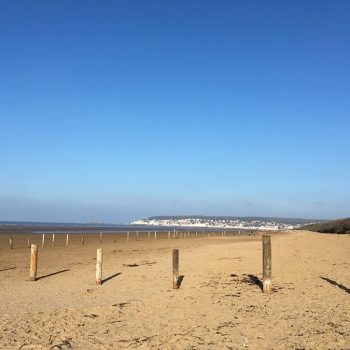 Uphill Beach
Uphill Beach is an excellent beach walk. It is dog friendly all year round, borders scenic Uphill Hill Nature Reserve and is close to a lovely friendly dog cafe – Uphill Wharf Cafe-Bar.
You have a few options for parking when you visit Uphill Beach, you can either drive right onto the beach and park all day for £4 (winter) or £8 (summer), or park a 5 minute walk away from the beach at the small car park at Uphill Wharf Cafe-Bar, or park at a couple of the other car parks for free, but you will just have a slightly longer walk to the beach.
Once onto the beach, there is a vast area that you and your pooch can play, enjoy the sun or throw a ball. As it's so dog friendly, there are always plenty of pups around, even in winter. After spending some time on the sand, you can follow the beach around to the mouth of the River Axe for some gorgeous views of the river where lots of boats are docked and bobbing in the water. Carry on following the River Axe and you will come across the flat picturesque salt marsh with Uphill Hill Nature Reserve rising up in the background.
Overall, we loved this walk and will definitely be coming back time and time again. We would particularly recommend stopping in Uphill Wharf Cafe-Bar so your pooch can enjoy some delicious Marshfield doggy ice cream!
Below is a map of our usual circular 2.3 mile walk around the beach and Uphill Hill Nature Reserve.
WARNING: The only thing to be careful of here is sinking sand. If worried about the sinking sand, avoid any dark areas of sand where the river looks like it has been. If the tide is out, basically do not go onto the darker sand on the beach, and do not let your dog try to get into the river as sinking sand borders the edge of the River Axe. There is plenty of beach to walk on that isn't sinking sand (phew!). Bella is very much a water dog and we found it easy to keep her out of the water when the tide was out as we had a ball and the water was quite low, so it wasn't too much of a distraction.
View this post on Instagram
Address
Uphill Beach
Links Road
Weston-super-Mare
BS23 4XY
Parking
Paid parking on beach or free parking a short walk away
Paws for thought
Sinking sand on the beach and on the river's edge when the tide is out
Pawfect partner
Leave a comment...
As this is a community website, please keep your comments helpful and positive, thanks!