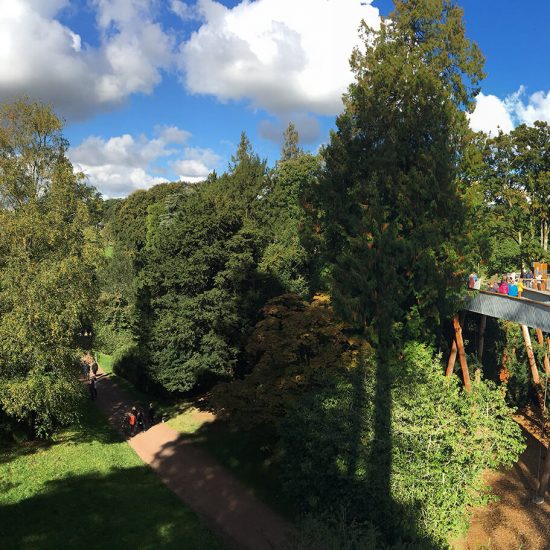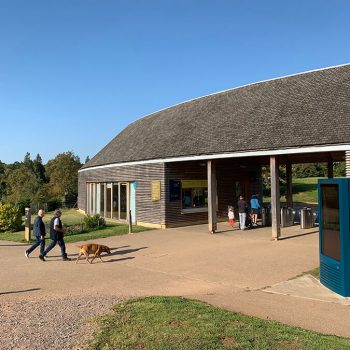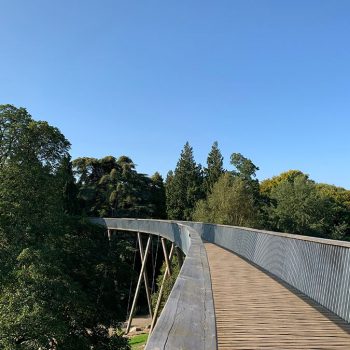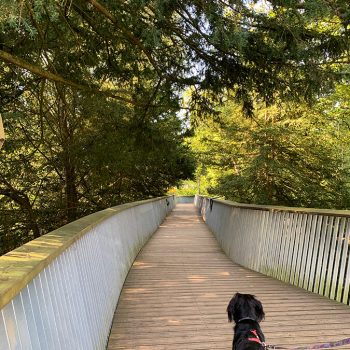 Westonbirt Arboretum
Westonbirt Arboretum is a beautiful place to relax and spend a good few hours of your day. The arboretum is home to an enormous collection of trees from around the globe, making it truly unique in this part of the world and we're lucky it's so close to Bristol!
You will need to pay for entry into Westonbirt Arboretum, prices can be found here. The staff are so friendly and welcoming. There are numerous dog bins on site and water bowls as soon as you get through the gates – so pup can have something to drink before going on a big adventure. The arboretum is split into three sections – Silk Woods & Lower Downs, cafes & facilities and the Old Arboretum. Dogs are only allowed off lead in Silk Woods & Lower Downs.
When you enter the grounds, Silk Woods are located on your left, across the Treetop Walkway, which offers you spectacular views of the arboretum landscape. Dogs must stay on lead if you choose to go across the Treetop Walkway, however, you could walk underneath, where they can be let off the lead.
After seeing the views on the walkway, the grounds open up to wide paths with gorgeous tree-lined avenues. Depending on the season you visit, there are different paths you might want to take – Westonbirt is famous for its many Japanese maple trees in Autumn, showcasing an amazing array of colour.
Dogs are free to explore here as much as they want and just love running around through the trees. I would recommend taking some water for your dog as running around can be thirsty work! You can explore these woods for a couple of hours, upon which most of the paths will take you in a circular direction to the cafe and restaurant areas where the dogs need to be back on their leads.
The cafes and restaurants are welcoming to pups and their owners, with plenty of dog bowls and water around, and you will even have the chance to buy them some doggie treats and dog ice cream at the cafe! Please note, the cafes do not allow dogs inside the cafes.
Opening Times
Westonbirt Arboretum is open from 9:00am until 5:00pm every day except Christmas day.
The last entry is 4:00pm from December to February inclusive and 4:30pm between March and November inclusive.
The Welcome Building's information desk is open from 10:00am to 4:00pm.
View this post on Instagram
The History
'The historic, Victorian picturesque landscape and internationally important tree and shrub collection is managed by the Forestry Commission and supported by the Friends of Westonbirt Arboretum.
The 15,000 labelled trees (around 2,500 different types of tree) come from Britain, China, North America, Japan, Chile and other temperate climates. Planting started in the 1850s by Robert Holford; the rich Victorian landowner to whom the Westonbirt estate belonged.
Westonbirt Arboretum consists of three main areas. The Old Arboretum (a dog free zone) is a carefully designed landscape dating from the 1850s offering beautiful vistas, stately avenues and trees from around the world.
Silk Wood (dog-friendly) is an ancient, semi-natural woodland which has exotic plantings throughout its landscape, whilst the Grade I registered Downs hosts species-rich grassland and is a great picnicking location.'
– Forestry Commission
Additional information
Address
Westonbirt
The National Arboretum
Tetbury
GL8 8QS
Parking
Free parking on site
Paws for thought
You will need to pay for entry into the arboretum
Pawfect partner
Leave a comment...
As this is a community website, please keep your comments helpful and positive, thanks!