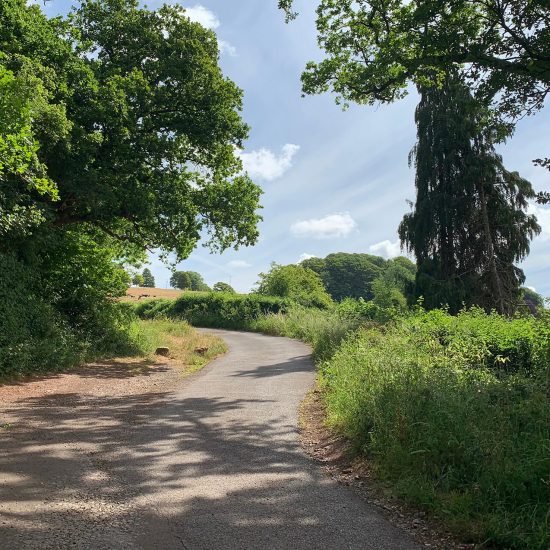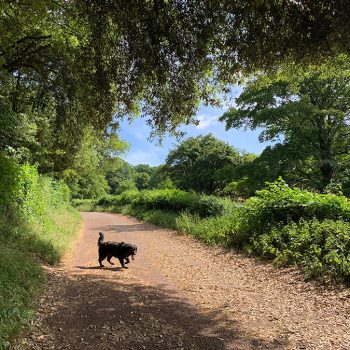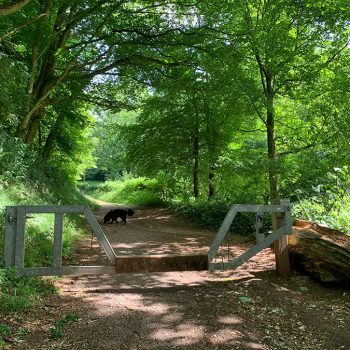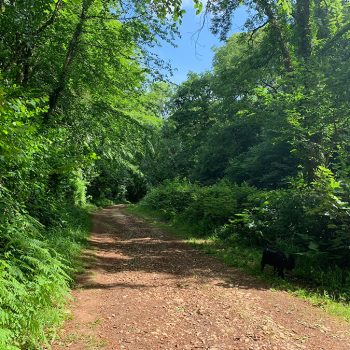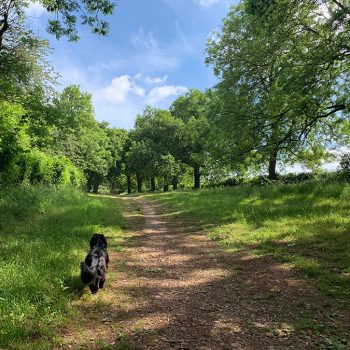 Wrington Circular
A 3 mile circular countryside wander through green lanes and fields, ending with spectacular views over Wrington. This walk does have livestock on the route, so please keep dogs under close control or on lead.
Walking directions
1. We parked on the end of Orchard Close, where it meets School Road. From here, walk uphill on School Road until you see a small narrow lane directly ahead with a poo bin on the corner. This is the only poo bin, so please remember to bring your poo bags here.
2. Continue walking uphill on Old Lane, which is quiet as it only leads to one farm. Soon the lane becomes more of a track and once past the farm and road gate dogs are ok to be let off the lead. When walking here, there are some sheep in a field to your right, but there are hedges and a fence in between so dogs should be ok. The track opens out to a lovely green lane with trees on each side, at the end of this lane, walk straight ahead to the footpath. The field just on the right before this has dairy cows in.
3. Follow the footpath and after a couple of minutes of walking, turn right onto another footpath, go through a gate and into the slightly wooded area where you follow the footpath to the right and come out in a huge field. Walk diagonally across this field until you get to the far end, where you can exit through the farmer's gate that goes onto a green lane next to a farmhouse. This farmhouse has peacocks, so please keep dogs on a lead here (we kept Bella on lead from this point as there are livestock in a few more fields – this might be seasonal livestock though).
4. Walk past the buildings as if you're going to walk to the lane, but before you do, on your right-hand side is a small black gate that looks like it leads to private property. This is a public footpath (even though it's hard to tell!), go through the gate, past the little lawn area until you are on another road that borders a lovely big farmhouse on your right. There are sheep in the field to your left, so please keep dogs on a lead here as it is very easy for dogs to get through the fence.
5. Follow the track until you see a beautiful area with a bench around a tree. Walk past the tree to the green lane with trees either side. It's a really pretty spot! Follow the path until you cannot go any further because the woodland is private property, so turn into the field on your right, walk across to the exit into the woodland.
6. Walk through this small part of private woodland, in which the paths are well kept and easy to follow. Exit the woods into another field. Follow the footpath along the top edge until you reach another gate. From here you are on public footpaths in the farm property, so the footpath is nicely marked with wooden signs pointing you in the right direction. Here you will see spectacular views over Wrington. Exit by following the lane out until you reach Old Hill – you will recognise this from the beginning of the walk. Walk down the lane and back to your car.
View this post on Instagram
Address
School Road
Wrington
Bristol
BS40 5NB
Parking
Park on either School Road or the end of Orchard Close where it meets School Road
Paws for thought
Livestock in fields, so please keep dogs under close control or on lead
Leave a comment...
As this is a community website, please keep your comments helpful and positive, thanks!