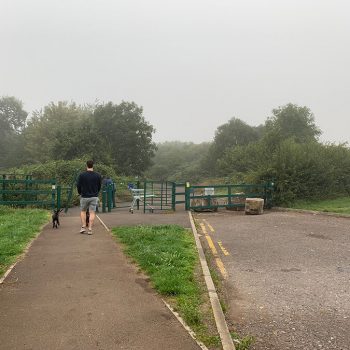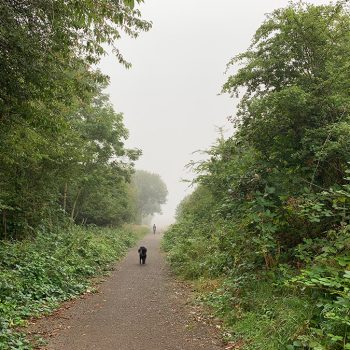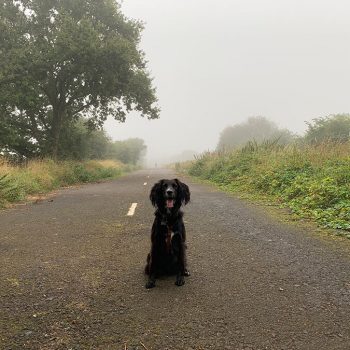 Yate Common
Yate Common (formerly known as Westerleigh Common) consists of 124 acres of flat, open space in Yate. You and your dog will find sculptures, ponds, woodland, football pitches, as well as the famous 'Road to Nowhere'.
To get to Yate Common we parked on Westerleigh Road – there are some car parking spaces on the large roundabout, we got there early and found it easy to park. There are multiple entrances around the common, most of them are on Westerleigh Road.
Walking from the large roundabout into the common, you walk straight onto the large strip of tarmac. The 'Road to Nowhere' looks like it's out of a scene from an apocalyptic movie – a road that was abandoned by the council in the 1970s, and has never been finished. It's worth a visit just for the strange experience! It used to be a regular filming spot for the BBC drama Casualty.
Surrounding the abandoned road are huge fields and small pockets of scrub and woodland. At the back of the woodland is a lovely little pond and stream, great for dogs that love getting their paws wet!
Yate Common is very popular with dog walkers and the only bins we could find were at the entrances of the park.
Finish off your walk with a trip to very dog friendly The Bolero Lounge for some great breakfast or lunch.
View this post on Instagram
The history
Yate Common 'is the largest piece of open space in Yate. During the last war, it was used by prisoners of war and a bomb came down in a part now known as the Germans Field. We have since named other areas such as Bikers Grove, Pat's Paddock,  and Lin's Bushes.
In 1988 due to boundary changes, the Common was up for development, but 1,000s of signatures, and a High Court battle successfully saved it from development and for open space for perpetuity.'
Address
Yate Common
Yate
Bristol
BS37 4JJ
Parking
Some parking on Westerleigh Road
Pawfect partner
Leave a comment...
As this is a community website, please keep your comments helpful and positive, thanks!